Tyson Fury v Sefer Seferi: The return, Joshua-Wilder targets and Ricky Hatton in awe
Last updated on .From the section Boxing133
Tyson Fury v Sefer Seferi
Venue:
Manchester Arena
Date:
Saturday, 9 June
Time:
22:30 BST (approx)
Coverage:
Commentary on BBC Radio 5 live; live text commentary on the BBC Sport website & app
Tyson Fury says he is prepared to fight Anthony Joshua and Deontay Wilder "on the same night" when he returns after a 924-day break from boxing on Saturday.
The Briton takes on Albanian Sefer Seferi at Manchester Arena with many in attendance likely to be keen on assessing Fury's display and future options rather than the result.
Fury will follow the likes of Muhammad Ali and Vitali Klitschko as a fighter to have left a position as a world heavyweight champion to take more than two years out of the sport.
But has he retained the necessary skill set to return to the top? BBC Sport gets the inside track from a sparring partner, insight from a man who has beaten Fury and hear from an ex-world champion who was left stunned by the heavyweight's display in a recent training session.
'AJ and Wilder? No problem'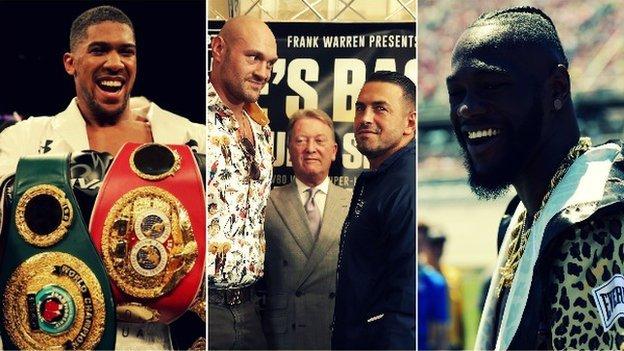 Fury - who ripped the IBF, WBA and WBO world heavyweight titles from Wladimir Klitschko in 2015 - has said stars in the division such as Joshua and Wilder have piqued his interest in returning.
To do so has involved shedding more than seven stones over six months - that's around 4lbs a week - and called on him to put depression, cocaine use and a UK Anti-Doping investigation behind him.
Now he insists he will take his time in shaking off ring rust and build towards recapturing titles he never lost in the ring, with Joshua in charge of the three belts Fury once held and Wilder the owner of the WBC title.
"Wilder and Joshua have world belts and are considered champions today, so let's get the fights on," Fury, 29, told BBC Sport. "The fights need to be made. If boxing is to be loved and adored, big fights have to be made. I will fight Wilder and Joshua on the same night.
"People haven't seen the best Tyson Fury yet. They think the Klitschko performance was my best. That was nowhere near, it was about 50%.
"Even when I was 27 stone, some of the top heavyweights in the country found me very hard work. I never lost it, even at 27 stone I could still float like a butterfly and sting like a bee."
'He's been a nightmare but is now happy' - Paris Fury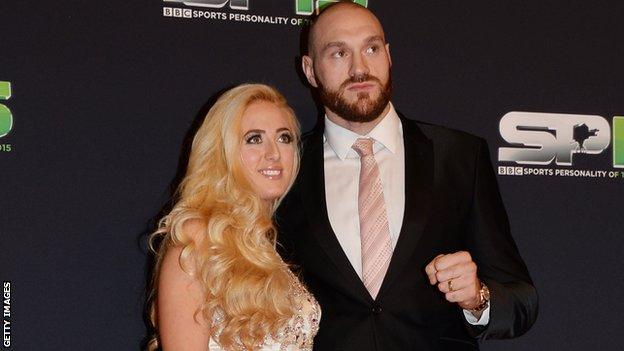 Fury's use of an Ali quote is apt as Ali was one of six previous world heavyweight champions who took more than two years out of the sport.
Only Ali and Vitali Klitschko of that group won on their return and in truth, Fury's odds of 1-1000 with bookmakers mean he looks certain to join them with victory over Seferi.
His return bout should, in theory, be far more straightforward than a torrid two years his wife Paris says were "awkward" and "hard".
"It's been a nightmare and he's been a torment, a complete torture," she told IFL TV.
"Now that he's back boxing again he's back happy again. Life has often revolved around him as we've all travelled together, followed him and when the boxing ended it was a change and shock to reality."
Seferi, 39, insists he is in Manchester to win and he has only lost once in 24 fights. However, that defeat arrived in his only bout in the heavyweight division and he will give away around a foot in height and four stone 10lb in weight after Fury weighed in at 19st 10lb 2oz.
BBC Radio 5 live analyst Steve Bunce said: "To be honest, Seferi is about exactly what I expected. No one is going for the two of these guys to have a slug fest, they are there to see Fury.
"The fight will prove nothing. Would it be helpful if he was five inches taller and three stone heavier? Of course.
"He is not there for anything other than to throw some punches and end up on the canvas. It is cynical. This is fight number one. It's not a competitive fight. It's the business working. It's reintroducing Tyson Fury to an audience."
'Fury has been spellbinding' - Hatton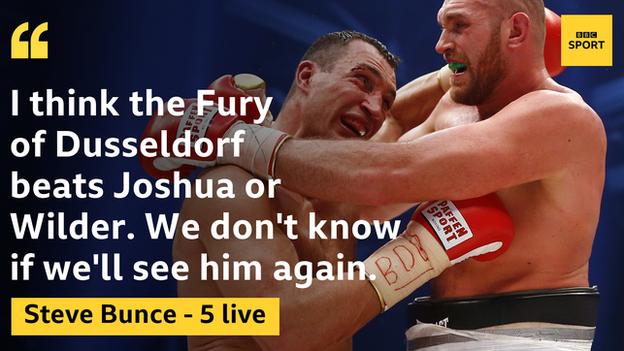 Fury's trainer Ben Davison has overseen his weight loss, with some of their work done at former two-weight world champion Ricky Hatton's gym.
Hatton admits he did not expect to see Fury return to the ring given the depression and lifestyle struggles he endured.
"I thought it was too far for him to come back," said Hatton. "My lord am I proud to say he has proven me wrong. What I have seen in that gym has been spellbinding.
"He has looked a million dollars. If he has maybe another three fights over the next 12 months, he will be ready for Joshua or Wilder."
Fury - unbeaten in 25 fights - trained 11 times a week to lose weight and regain sharpness.
One of his sparring partners - Tom Little - said he has never worked with anyone as "unpredictable" in the ring as the self-styled 'Gypsy King'.
"I'm good at making people miss but I make him miss and then he hits me where I have moved to," Little told BBC Radio 5 live.
"He has the best timing I have ever seen. When you stand in front of him you soon find out how good he is. He's the real deal.
"Tyson understands big punchers get knocked out all the time. They get vulnerable as they are putting so much into that shot. Tyson doesn't load up until he knows he has someone. He's a safety-first fighter. Boxing is about winning and that's what he is good at doing.
"I hope we see a massive showdown and he can burst the Joshua hype train."
'He can get it all back' - Price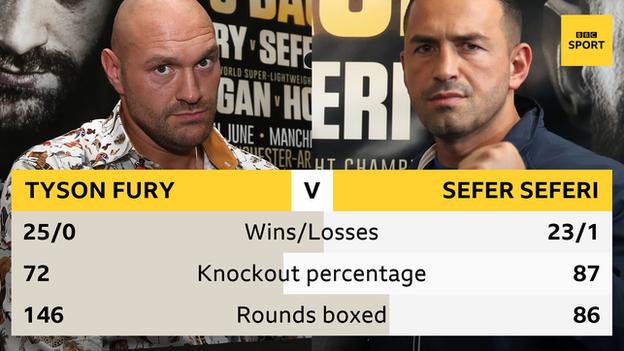 Only four men can claim to have beaten Fury during his amateur days and one of them - Liverpool's David Price - will be ringside for BBC Radio 5 live at the Manchester Arena.
Price - a 2008 Olympic bronze medallist - recalls a rivalry during their amateur years and says he was "taken aback" when he heard a young Fury vowing to take his Olympic place.
He now says the two are "friends" and says Fury's quips - such as once labelling Price "a big stiff plumber" on Instagram - have helped him grow in popularity.
Price told BBC Radio 5 live: "If you're not easily offended everyone would accept he is such a character to have in the sport. He has grown on a lot of people.
"I think he can rediscover all of what he was but in time. Its not going to come back on Saturday night. He needs to get ring fitness and familiarity under the lights.
"It will come back sooner than people think, one or two fights after Saturday. He is a natural in the ring, so comfortable, which is why he can go round after round without looking like getting tired because he is so relaxed in there."
Prime Fury beats Joshua or Wilder - analysis
BBC Sport boxing correspondent Mike Costello:
It might well be that you could argue Fury needed a break mentally and physically. He had been boxing from when he was younger than 10 years of age.
I remember the first time I ever interviewed him, it was on the ring apron after he won the ABA final in 2008. His dad appeared on his shoulder and told everybody that this young man would be heavyweight champion of the world. Many scoffed but it underlined the kind of pressure that was being imposed on him even at that time.
I am open minded. The performance against Klitschko gives any heavyweight in the world problems. But Wilder and Joshua are younger and could apply pressure. There is fabulous uncertainty around those permutations.
BBC Radio 5 live analyst Steve Bunce:
That morning after he beat Klitschko Fury could barely walk as he'd worn cheap socks in the ring and had huge blisters. There was something horribly inevitable that post-fight day. It was almost too good to be true. I'm not being an after timer.
We were thinking he is untouchable, if he's fit he could reign for as long as he likes, then we all went 'it's just not going to go like that is it?'
Could Joshua keep chasing Tyson, hitting him with jabs or right hands, will he ever get near him?
With Wilder, would Tyson slow down enough to get clipped by one right hand? I have to be honest, I think the Fury of Dusseldorf beats any version of Joshua or Wilder but we have no idea if we are ever going to see him again.