David Haye: Former world heavyweight champion retires from boxing
Last updated on .From the section Boxing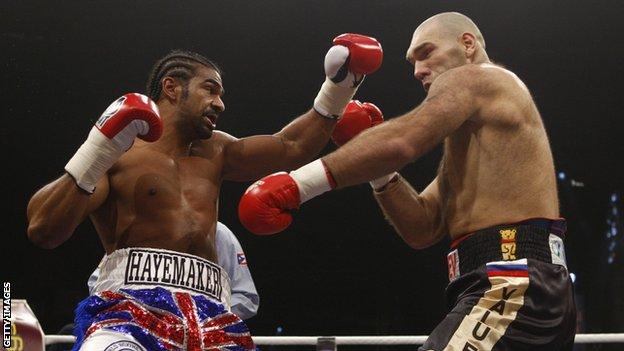 Former world heavyweight champion David Haye has retired from boxing.
Haye is also a former cruiserweight world champion and ends his career with a record of four defeats in 32 fights.
He said he was "ready to close this chapter in my life" but "this is not the end of my story - it's simply the start of something new".
Haye became European cruiserweight champion and went on to win the WBC, WBO and WBA world titles before stepping up to heavyweight.
He beat Russian Nikolay Valuev to claim the WBA heavyweight crown in 2009.
In doing so, he became only the second boxer after American Evander Holyfield to unify the cruiserweight titles and become a heavyweight world champion.
The victory also meant he was the first Briton to hold a world heavyweight crown since Lennox Lewis.
However, after his fifth-round stoppage by Bellew, Haye acknowledged he was "giving 100% effort but performing way below world level".
In a statement, he added: "For my fans, it must have been like going to support their favourite thoroughbred racehorse at the Grand National, only to see their stallion stumble out the gates like a sedated mule at the Donkey Derby.
"I saw punches coming but wasn't quick enough to avoid them. I created openings but lacked the speed and agility to capitalise on them.
"Quick, bread and butter counterattacks, the sort I've effortlessly thrown since my teenage years, are no longer in my armoury. And when I take shots, they now shake me to my boots.
"The things I used to be able to do in the ring - instinctively - now exist only in my mind and in video clips of my old fights."
He added: "The boxing gods have spoken. They will no longer protect me with the freakish speed and power I used to possess.
"And without these God-given gifts, I completely lose my edge."
Haye thought he was in "tip-top shape" going into the fight against Bellew but "looks can be deceiving" as he also admitted he would have fought more in the second half of his career but for injuries to stop him doing so.
"Often it was a fight just getting to the ring in one piece," he said.
"In the past five years I have snapped (fully ruptured) both biceps, my rotator cuff and my Achilles tendon.
"All four injuries were potentially career-ending and each of them required operations with months of intense rehabilitation.
"The biggest physical challenge I had to face, however, was a spinal surgery in March 2015."
Haye also announced his retirement in October 2011, three months after losing his WBA belt to Ukrainian Wladimir Klitscho in Germany, but he returned to the ring the following year.
This time around, he said: "I'm proud of the battles I've been through. I'm proud, too, that I exit the battlefield happy and healthy, with my family financially secure.
"Most importantly, I can reflect on it all with crystal clarity."