Tony Bellew column: Tyson Fury, Adonis Stevenson, retirement & mental strength
Last updated on .From the section Boxing

Tony Bellew has won a world title at cruiserweight and is now fresh from two heavyweight wins over David Haye. In his first BBC Sport column, he talks through the fight dilemmas he now faces and mental toughness.
My recent wedding day brought me an anxiety I have never felt before. Was I nervous? No. There was no one trying to punch me in the face after all.
But when I was waiting for Rachael, who I've been with for 17 years, there was an anxiety almost, an anticipation which I don't really get.
There was some emotion on the day, I thought about my brother-in-law who we lost in the last 12 months and the people who can't be there come into your mind.
It was just a special day where all the attention is rightly on Rachael and she looked beautiful, although she does every day to me. I would not be where I am now without her in a million years.
She will have a huge say in what I do next but I honestly don't know with any certainty what the future holds. Retirement is an option, as are other things.
People say I have climbed to the top and it literally has been a climb. I have reached a point where things have changed as I'm no longer fighting out of financial necessity, which has been the case 99% of the time.
In my mind I've had a lot of big fights but in reality I've only had two - against David Haye - with mega earnings involved. I was secure money-wise after the first Haye fight, so what am I fighting for now? The bottom line is I still have things to prove.
I love the sound of a Tyson Fury fight. I like the thought of gaining revenge over WBC light-heavyweight champion Adonis Stevenson, who beat me in 2013. If I face him and win, I'd have beaten every man I have ever fought in a ring.
I do like the thought of fighting Andre Ward and I know he has not retired properly, he's still in the gym. And finally, there is the winner from the Oleksandr Usyk and Murat Gassiev World Boxing Super Series cruiserweight final on Saturday.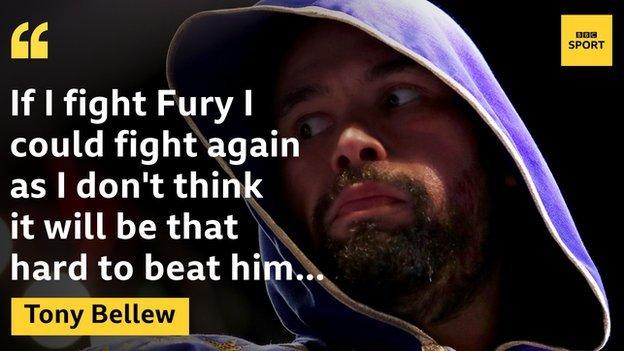 That bout, with all the world cruiserweight belts on the line, would be my number one choice in a heartbeat if all of the options paid the same pot of money. The sad fact is they don't.
And this is where you come back to Rachael and the people advising me. We weigh up risk and reward. In this game, you'd be mad not to.
If I fight Usyk or Gassiev I could be the only British fighter ever to hold all four world belts at once. Lennox Lewis didn't even do it and I love the sound of it. But that would be a very hard, damaging fight. It would have to be the last fight of my career.
If it's Gassiev I envisage having to get up off the floor, if it's Usyk I have to ride through a storm at some stage.
If I fight Fury, I could fight again as I don't think it will be hard to beat him and that one fight could potentially earn five times more than Usyk or Gassiev. It's just plain stupid to not think about that.
Fury is a perfect opponent for me. I still think he's a brilliant fighter and a good bloke. But he has never faced someone quicker, stronger and who has this much to his game.
Wladimir Klitschko got involved in a mind game with him and was beaten before he got in there. With someone like me, Fury knows he will never get to me mentally. He knows he can't fiddle me. The only things he has over me are height, reach and weight. I can combat those.
I know what I am getting into with heavyweights. Not one of them can dictate against me because, firstly, they don't have feet fast enough. Secondly, while there are far better athletes and stronger fighters than me, even some who are quicker, they don't have the ring IQ I have. It allows me to dictate.
'Do I need the treadmill pain?'
Money and providing has been a consistent motivator for me. So if another challenge comes, what will drive me?
Training for the Haye fight, I was doing treadmill work at 21km/h for 30 seconds on and off. You're doing this maybe 36 times or more. I'll vomit, spew, whatever is needed.
Without realising it, I was saying to my coach, 'I can't do this anymore'.
Yes, I have trained for money but I know I'm training to ensure I can get home safely. So deep down, someone like me is never going to take their foot off the gas.
I had a headache for four days after the first Haye fight. I didn't tell anyone, I just went to bed and thought it would go. But for four days it remained. Then I got my brain scan before the second fight and I was worried when I went for it.
In boxing you get physically punished and deal in hundredths of a second. If I make the wrong adjustment a second before I should, I wake up in an ambulance. Believe me, you don't even feel it.
The risks have to be considered. I've always said, I will retire from boxing, boxing will not retire me. Right now, retirement is realistic. If the right fight can't be found then, yes, because what's the point? Do I want to retire? No. Will I? Yes.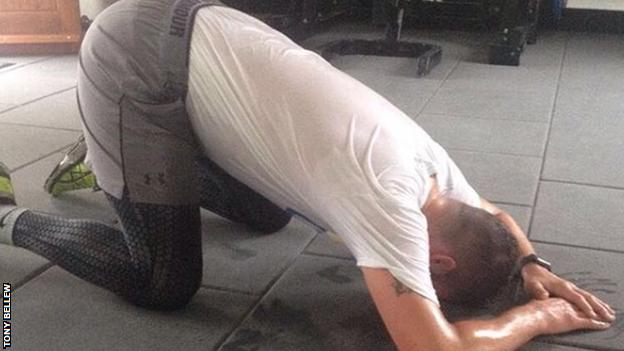 'Football a different mind game to boxing'
Watching England in the World Cup, you have to say the players reignited the passion for the national team. By the semi-final, I was trying to sort tickets to go if we made the final.
The players have worked with a psychologist and I can understand the value of that in football. I think several previous England teams must have been going out there with half the players already beaten by doubt.
In boxing, if my opponent was using a psychologist, I'd feel like I was already one up.
The key difference is in boxing you have control whereas in football they have to trust and rely on others. I wouldn't like it if I was feeling mentally good but felt the man next to me had a mindset of 'please don't let me be the one who messes up'.
You all need to be on a certain level and that must be so hard to achieve. Boxing has given me moments which have shaped me mentally, taught me so much and ultimately changed me. Without doubt, my biggest psychological influence is the sheer shame of losing.
When I lost to Stevenson in 2013 my heart was broken. It broke me as a person. I didn't want to leave the house, even the things I had promised my now wife that I'd achieve were all falling apart.
It made me more driven and I moved to Sheffield to train four days a week. Because of that defeat in Canada I am a mentally stronger person in every way.
Nothing will break me in the world of boxing but I can see different demands in football. Whatever Gareth Southgate has overseen seems to have worked and I know I and many others will be right behind the England team now.