Tyson Fury, Carl Frampton and Paddy Barnes set for key Windsor Park challenges
Last updated on .From the section Boxing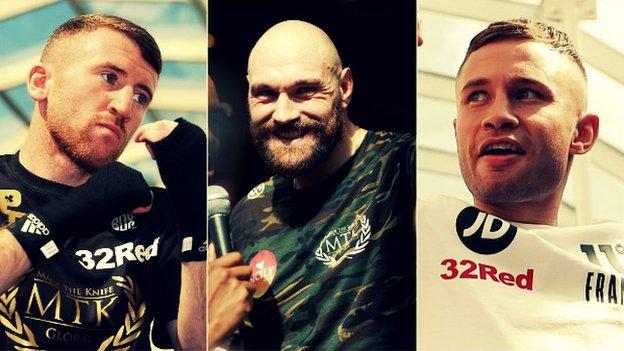 Carl Frampton v Luke Jackson, Tyson Fury v Francesco Pianeta, Paddy Barnes v Christofer Rosales
Venue:
Windsor Park, Belfast
Date:
Saturday 18 August
Commentary on BBC Radio 5 live from 20:00 BST and BBC Radio Ulster; live text commentary on the BBC website
Carl Frampton hopes to deliver a night still discussed "in the pub in 30 years", while Tyson Fury knows his own Belfast bout represents a critical "last hurdle" on Saturday night.
The two British fighters, split by around 116lbs in boxing's weight divisions, know victories would all but guarantee world-title shots.
In Frampton's own words, defeat could be career-ending, while victory could be made all the sweeter for the Northern Irishman if his friend and compatriot Paddy Barnes defies the odds to win a first world title earlier on a fight card laced with storylines.
BBC Radio 5 live will bring coverage of all three bouts from what commentator Mike Costello labels a "boxing-mad city".
A critical southpaw challenge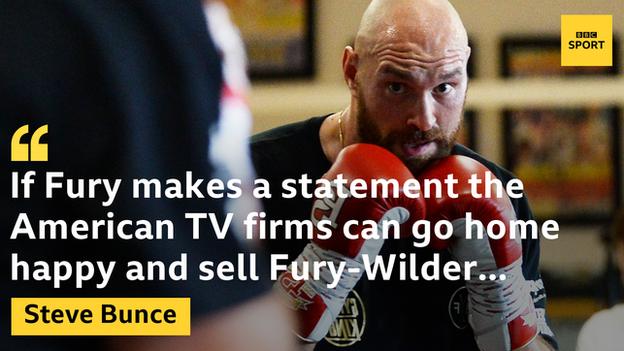 Fury's fourth outing in Belfast could well be followed by just his second in America if Deontay Wilder's view that they will meet in New York or Las Vegas this year holds true.
Where once there was only talk of WBC world champion Wilder facing IBF, WBA and WBO title-holder Anthony Joshua, suddenly there seems to be substance and momentum behind a meeting of two of the sport's most vocal characters.
Italian Franceso Pianeta represents the final hurdle before that global super fight. There will be expectation on Fury, 30, to show he is ready.
In scaling 18st 6lbs at the weigh-in - down from 19st 10lbs prior to his comeback fight in June - Fury's transformation from the 27st frame he boasted during his time away from the sport continues to showcase a clear commitment.
A statement in the ring needs to follow. With Wilder ringside, there will be no better time to show that the skillset which helped Fury to world titles in 2015 remains.
Pianeta - who has four defeats in 40 contests - will give away height, reach and weight and enters the bout off the back of a loss in June, though Fury admits he has found few southpaw sparring partners in order to prepare for the Italian's style.
"Every southpaw amateur or professional I have faced I knocked out," Fury said. "If I can't beat Pianeta I'm going nowhere. He's a dangerous opponent but in my mind I think I'm the greatest heavyweight ever born so I should handle him and anyone else."
'Let America sell Fury-Wilder' - analysis
BBC Sport boxing correspondent Mike Costello:
I watched Fury a couple of weeks ago. He clambered between the ropes and was limbering up shadow boxing. He just looked so beautifully fluent, it comes so naturally to him. I realise against Wilder he has to get it right all night long and Wilder only has to catch him once and it's done.
But I think Fury may not keep improving without that kind of danger presented in front of him. I think Wilder in November may be OK for timing. Saturday will be all about the occasion and what comes next for Fury and Frampton, but both are equally vulnerable in terms of potentially messing up their future.
BBC Radio 5 live analyst Steve Bunce:
There is so much at stake. It puts a lot of pressure on fighters when they know the man they may be facing next is ringside. I think there is more pressure on Fury as he needs to look slimmer, faster and sharper.
He will want to make a statement. The issue is sometimes when a fighter does that they leave themselves exposed. He has to win. Preferably he gets five rounds, finds his distance and takes Pianeta out clean. If he does that, he sends the American TV companies home happy as they can go and sell Fury-Wilder.
Jackson's battle and the Jackal's big night
"My life has been difficult and it changes forever if I beat Frampton," said Luke Jackson.
The 33-year-old Australian is undefeated in 16 fights but his biggest battle has been outside the ring, where he has overcome drug use and with the help of medication controls obsessive-compulsive disorder (OCD), which has seen him face repeated suicidal thoughts in the past.
"I'm not supposed to be here," he told BBC Sport. "A lot of my friends are in jail or dead, a lot of my family are on drugs. I see what Carl has and that is what I want."
Frampton - a former two-weight world champion - has his chance to headline a venue he has long dreamed about. He admits it is "quite possibly" his last outing in Belfast as a win would likely lead to bouts on the road against the likes of IBF world featherweight title-holder Josh Warrington, Mexico's WBO king Oscar Valdez, or maybe even a third meeting with WBA champion Leo Santa Cruz.
"It's going to be a special occasion for me, my family and the city," Frampton - nicknamed the Jackal - told BBC Radio 5 live. "It's a big night and I hope it's one where, if I'm in the pub in 30 years' time, they are still talking about it.
"If I lose on Saturday it's probably the end of my career. But people don't expect me to lose and I don't expect it either."
'Jackson in good mental place' - analysis
BBC Sport boxing correspondent Mike Costello:
Featherweight is probably the hottest division in world boxing right now and what will probably happen next is Warrington versus Frampton, so there is so much at stake for Frampton on Saturday night.
I was sat in front of Jackson's family recently and they were saying how good his camp had been. They were relating a lot to the state of his mental health, which rises and drops and they can't guess when.
The form of OCD he has triggers negative thoughts. One way it manifests itself is during a fight he has to touch the ropes with both hands every round, he says to ward off forces and negative thoughts.
Seeing him though, it struck me how old he looks for 33. I also feel he may have struggled to make the 126lbs weight a bit too.
'If I'm not ready, when will I be?'
Barnes, a life-long friend to Frampton, holds two Olympic bronze medals and has twice topped the Commonwealth Games podium, making him Northern Ireland's most decorated amateur fighter.
He has come a long way since losing his first 15 amateur contests.
But just five fights and 32 rounds into his professional career he will stand before Nicaragua's Cristofer Rosales, holder of the WBC world flyweight title. The travelling fighter is a bookmakers' favourite boasting three inches in height advantage, seven inches in reach and experience from 30 fights - including three defeats - in the paid ranks.
"Rosales is a very good champion but I'm a 31-year-old triple Olympian who's been boxing for 20 years. If I'm not ready now, when will I be ready?" said Barnes.
"I'm acutely aware what Rosales is capable of doing to me if my concentration wanders, but I hold the advantage here. I've competed on much bigger platforms and, the bigger the stage, the better performance I produce."
'King Barnes and the monstrous ask' - analysis
BBC Sport boxing correspondent Mike Costello:
Barnes has a stellar amateur pedigree and left it late to turn pro. If you look at Rosales, he has been beaten by Andrew Selby and Khalid Yafai but I do sense he has improved since then, so it's a huge ask for Paddy Barnes and he knows it.
BBC Radio 5 live analyst Steve Bunce:
The king of this city is Paddy Barnes. He's one of the most recognisable human beings here in Northern Ireland. He is brutally honest and he knows he is against it here against the best young flyweight in the world. This is a tough, tough task. A monstrous ask.