Tony Bellew column: Oleksandr Usyk, one more training camp & cutting out the pizza
Last updated on .From the section Boxing

Tony Bellew used to hold the WBC world cruiserweight title before switching up to heavyweight to defeat David Haye. Now, in his second BBC Sport column, he says he is on the brink of sealing a fight back down at cruiserweight where he could achieve something no British fighter has ever done before.
I had one foot out of the door in this game but someone has drawn me in one last time.
Ten weeks from now I will have grown to hate Oleksandr Usyk as when I'm sat alone in my hotel room I'll be blaming him for the loneliness and sacrifice of my training camp.
It looks like I'll be facing a man who I believe is the greatest cruiserweight since Evander Holyfield, a man who, I believe, even after I've beaten him, will move up to heavyweight and win a world title.
He wanted to do this at heavyweight but I was not going to face such a monster for nothing and so with all four of his belts on the line, I'll become the first British man to hold all four world titles in a division.
That, when I was a kid, was nothing but a dream. But this dream involves a test before I even get in the ring as to make the 200lbs cruiserweight limit, I'll need to shed a couple of stone. That brings its own mental challenge as my time at heavyweight allowed me to loosen the diet.
Back to basics and cinema for one...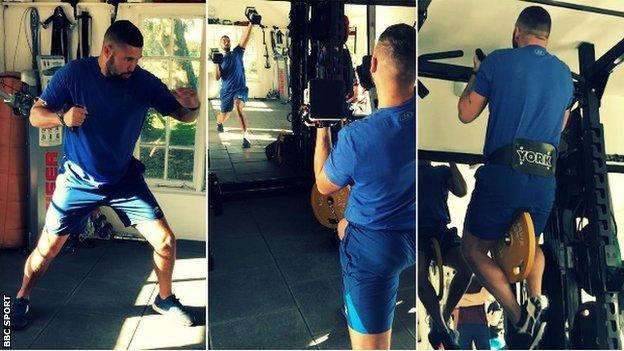 Many people outside of boxing may not know what a training camp represents. It will be around 13 weeks for this fight and that will involve four nights a week away in Sheffield to train with Dave Coldwell.
I return home to Liverpool on a Wednesday and work through strength and conditioning with former Everton fitness coach Dave Billows. Of course, I get to see my family then which helps massively.
It may be hard to understand but I want camp to harden me. I could stay in a lavish hotel but don't. I check in, get my microwave for the room and pretty much shut the door for weeks. The isolation helps in many ways.
At Coldwell's gym I love the younger fighters like Anthony Fowler, Jordan Gill and the twins Gavin and Jamie McDonnell, but this is no team sport and in my mind, I'm on my own. They are great to be around but no one can push me in training like me.
For a couple of weeks, the tranquillity of the hotel room is nice as at home there's always mayhem with the kids. But eventually you go crazy and before you know it you're out going for walks on your own, talking to yourself and yes, I go to the cinema on my own like a saddo. I can hear people in there saying, "Is it him? It's him."
Sometimes I window-shop and some of the staff may recognise me so their eyes light up thinking I'm going to buy half the shop but I'm not really a spender.
By about week 10 you are ready to kill the world. I begin to blame the other fighter. People wonder why I dislike my opponents, it's not personal or that I hate them it's just that I know what I've had to sacrifice to face them.
Camp just drills the mind and even though I get that Wednesday at home, in many ways I'm not really there as mentally I'm somewhere else. The focus never goes. I've not switched off in 20 years, so why start now?
Punch stats and AJ's food man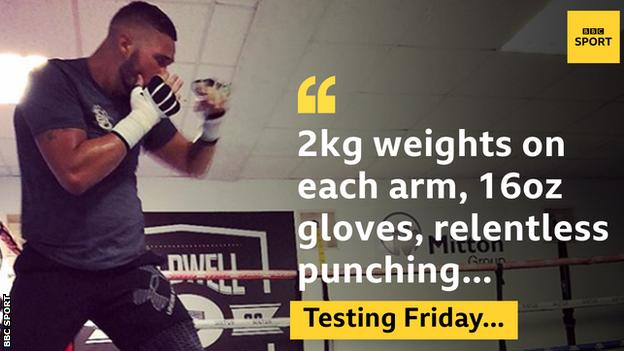 As a heavyweight I've not missed dieting. Those days where you're sore or tired, it makes me feel happy to know I can eat a bar of chocolate. Knowing I can have a treat like a milkshake when I'm alone in the cinema helps me get through some sessions.
I've got Mark Ellison, the nutritionist for Anthony Joshua and Manchester United, on my team for the first time. I'll say this for AJ, he lives the right life so even at this age and with the years I have behind me, I'm open to learning from Mark.
I am not a heavy drinker, I've never taken a drug in my life but I am prone to a pizza. That cannot happen this time but this for me is one last dance, it's four belts, all or nothing.
The other stress people forget about for a camp is managing sparring partners - it is costly to get the right ones. That's feeding them, housing them, keeping them happy - you really have to do that as an unhappy sparring partner is no good to you.
And then there are the days of physical torture. Friday is punch stats day. That's 2kg weights on each arm, 16oz gloves on your hands and you're punching relentlessly trying to break the gym record - which I hold. It's a truly unbelievable session.
It's probably one I dread and we follow it with leg workouts on Friday afternoon. The other one I know will hurt me is treadmill work on a Saturday morning, typically 30 seconds of effort at a flat out pace with a 30-second recovery, repeated up to maybe 36 times over. It's brutal and often I end up spewing.
I've done 23 sessions in around 15 days so far, burning around 20,000 calories. Unlike the young Tony Bellew, I now know that if I'm broken and cannot do the typical 11 sessions a week, so be it. Age teaches you to listen to your body and I'm lucky in that I've got support around me so after finalising this column, I'm heading to Everton for physio and to get my back cracked.
So camp is a lonely, torturous place, physically and mentally. I'm not complaining, I was the guy telling my wife I'd be a world champion when we were younger. She must have thought I was a barmpot but it's all worked out in the end and been worth it.
'No one says I can beat him...'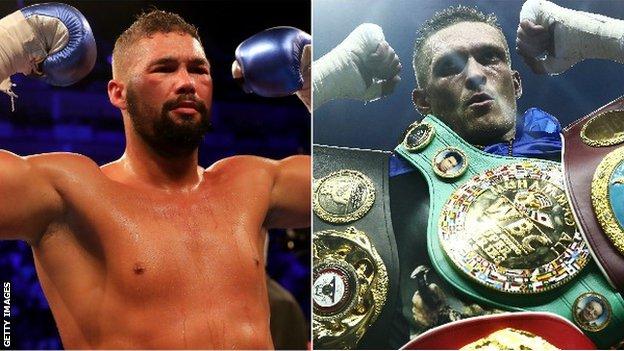 When we get down to it, I'll be in the ring with a phenomenal boxer, a man who has brought the amateur style that won him Olympic gold into the professional arena.
But make no mistake, I will not stand in awe or admire him from afar. I will push him to the absolute limits and let's see what he's got. Let's see what he's like when it's really hard.
I've been down, got off the floor, overcome major cuts in fights, been behind on the cards, I've experienced everything in this game and I don't believe he has.
I've not heard one reporter say they think I can beat him yet but I've been written off forever. A guy stopped me at a petrol station the other day and said "sorry" as he had David Haye down both times to beat me. So did most of the world.
This bout is one I could sign off on. If I lose, which I could, then so be it. But I know I am going to beat him. I don't know how, I just know I'm going to get to him.
Between now and then, when I'm sat in that lonely hotel room, I'll be studying all the time. I don't just watch him but take in fights where I think the clash of styles are similar.
Boxing people will know that Bernard Hopkins v Antonio Tarver has similarities, so I'll watch what each man did in those kind of fights. And, of course, I'll watch Usyk and, let's be honest, he will see far more flaws in me than I do him.
But I have that one-punch power that he doesn't. I can iron this fella out with one punch. It takes one movement, one mistake, sucking him in for one second and I will put him out.
I'll suffer as much as I need to for 13 weeks. No one says I can beat him, but we'll see.
Tony Bellew was speaking to BBC Sport's Luke Reddy