Gafur Rakhimov elected International Boxing Association president
Last updated on .From the section Boxing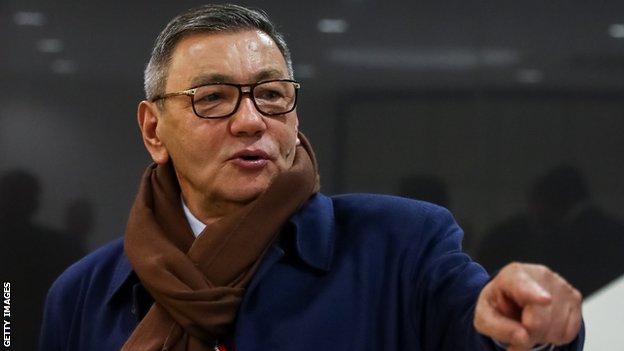 Gafur Rakhimov, a man described by the US Treasury Department as "one of Uzbekistan's leading criminals", has been elected president of amateur boxing's global governing body.
There have been suggestions boxing could be kicked out of the Olympic Games if the controversial Uzbek businessman was elected.
He takes control of the International Boxing Association (AIBA) after previous president CK Wu and former executive director Ho Kim were issued life bans.
Rakhimov won 86 out of 134 second-round votes collected by AIBA officials in Moscow on Saturday to defeat his only opponent, former boxer Serik Konakbayev.
Rakhimov denies allegations he is linked with criminal organisations.
Earlier this year, International Olympic Committee president Thomas Bach said he was "extremely worried" about AIBA's governance and finance procedures.
The International Olympic Committee (IOC) has threatened to oust the sport from the Olympics if AIBA does not improve its internal governance.
However, AIBA said it was "confident" the sport will be at the 2020 Olympic Games in Tokyo.