Deontay Wilder: I'm a leader, king & true soldier - WBC heavyweight champion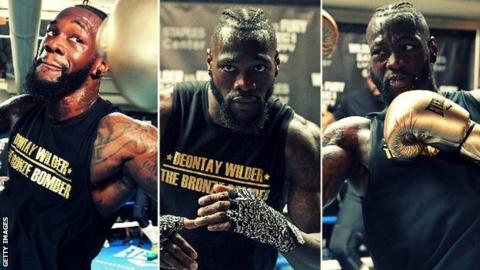 Tuscaloosa means 'Black Warrior' in a native American language.
Legends are made in the western Alabama city, according to a banner hanging on a factory building displaying the face of its resident WBC heavyweight champion Deontay Wilder.
Local college football colours decorate the houses en route to the Skyy Boxing Gym, where BBC Sport was invited to meet the city's spirited fighter as he prepares to face Briton Tyson Fury at the Los Angeles Staples Center on Saturday.
The 'Bronze Bomber' talked about his family motivations, his vision of a future on movie screens, and how he has already taken steps to put his name alongside the legendary George Foreman.
Naieya the motivation for her dad
Wilder's trainer Jay Deas quit his job as a TV crime reporter in Florida to set up the boxing gym with his brother Tommy - who was also a news reporter - in 1995.
Ten years later, Deas met a 21-year-old Wilder and was amazed by his raw punch, which would serve him well as he went on to claim Olympic bronze for the USA in Beijing three years later.
And the natural power Deas mentions has been devastating in delivering 39 knockouts from 40 bouts, including the coveted green and gold WBC title which he claimed from Bermane Stiverne in 2015.
"I knew I had the power but once I saw it in the ring again and again, I was like: 'Damn!'" Wilder, 33, tells BBC Sport. "It's brought me a lot of money but the frustrating part is when the arm needs to recover."
Deas also quickly picked up on Wilder's drive to provide for his daughter, Naieya, who has spina bifida.
Now 13, Naieya was born in the same year her father started boxing - and Wilder says he may not have even taken up the sport seriously had it not been for her. The fighter dropped out of college and held down two restaurant jobs and drove a truck in order to take care of his "blessing in disguise".
"When Deontay first came to the gym and once I built a rapport with him - because he often kept to himself - he told me about his daughter, Naieya, and he was so determined to be there for her and provide everything she needed through boxing," Deas says.
Acting up with big screen goals
Before every sparring session, Wilder stretches in the ring with his confidant and conditioning coach Joey Scott. During our visit, he works with three sparring partners who vary in height and intensity.
Scott is a former track and field athlete and now coaches at Olympic level. He splits his time to assist Wilder, having been part of the team when the fighter made his professional debut at a Nashville university campus in 2008.
"I love being around people who speak nothing but success and when me and Deontay met, that's all we spoke about," says Scott as he pushes and pulls Wilder's legs on the ring mat.
"When he's talking to people he's always a man of his word. The motto of our whole circle is: 'If you speak it and you believe it, you will receive it.'"
One thing Wilder is serious about, aside from boxing, is a future acting career.
"I can play everything - love, horror, action," Wilder explains. "I can even play the villain because I'm the baddest man on the planet."
'I'm a leader, I'm a king and I'm a true soldier'
After training, the camp move on to a local barbecue joint to feast on chicken, ribs and bread pudding - but Wilder is strict, sticking to chicken and egg salad.
Such discipline pleases his conditioning coach because their last camp in March proved challenging going into his fight against Luis Ortiz. Wilder had flu, leaving him little time to prepare for the bout.
He went on to claim the 40th win of his unbeaten career, but it was not without a scare in the seventh round against the Cuban.
"A lot of people don't know this because Deontay doesn't like to make excuses for anything," says Scott.
"There was a lot going on in camp for the Ortiz fight and Deontay had the full-blown flu a week before."
Wilder quickly interjects to describe it as "the worst camp of my life".
"I only trained two weeks," he says.
"I was sick as a dog and I only weighed 214lb (15st 4lb, 97kg). I live my life without excuses because you can either do it or you can't. You will never hear me lose and make an excuse.
"I'm a leader, I'm a king and I'm a true soldier. You're witnessing a living icon and there's going to be a point where I don't have to say it any more. I've been through stuff all my life and it hasn't changed a thing - except to make me hungrier and more competitive."
This is a fact not lost on Scott, particularly with regards to the Ortiz fight.
"Even though I've known him for a long time, I learned a lot about him that night and the overpowering strength of his mental state," he says. "He proved in that fight it's going to take more than a whirlwind of punches to put him down."
Facing Fury and emulating Foreman
The odds have again been stacked against Saturday's opponent Fury who, despite two wins this year, has been largely absent from the heavyweight scene for three years.
But a picture of the Englishman moments after taking four heavyweight belts from Wladimir Klitschko of the Ukraine in 2015 is pinned on the Skyy Boxing Gym wall to remind the team of what he is capable of.
Wilder says: "I'm expecting Tyson Fury to be awkward, to be long and throwing his punches from distance and trying to outbox me. May the best style win.
"I'm a true champion. A true champion knows how to adjust to any fighter and any style in the world.
"I'm one of the elite guys in the heavyweight division and I'll soon be the only champion. One face, one name from Alabama.
"All I want to do is accomplish my goals and when I've done that I'll get out of the sport," he adds. "Unifying the division, reigning with all the titles and swiping out all of the best heavyweights in my time. I reckon I could beat George Foreman's record at 45 years old."
There's a plaque in the gym overlooking Wilder's solitary ring with Foreman's name under the title "Long-Term Champs".
Wilder has already added his name to that plaque as he looks to cement a lasting legacy before he retires to his sweet home by the Black Warrior river.