Women's Winter Box Cup: All-female boxing event a UK first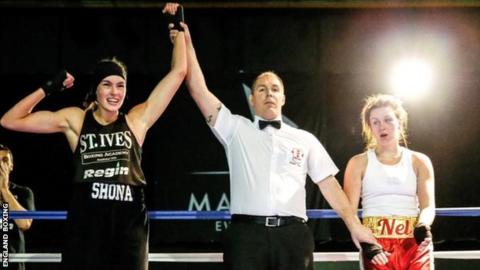 The United Kingdom's first all-female boxing event will "inspire" more women and girls to get into the sport, says GB international Shona Whitwell.
St Ives southpaw Whitwell, 20, is among more than 170 fighters to have signed up for the Women's Winter Box Cup in Manchester on 8 and 9 December.
Boxers of different ages and abilities will compete across 18 weight classes.
"It will show that women and girls are just as much a part of boxing as the men and boys," said Whitwell.
"It is great for some of the novice women boxers coming through to see how it all works at a competition, and it is definitely going to push women's boxing into the limelight, which is what is needed."
Whitwell, who will compete in the elite 60kg division, is among fighters from the UK, Ireland and Europe to have already entered the event.
The Box Cup follows a run of success for emerging English boxers on the international scene, with Caroline Dubois grabbing headlines after adding gold at the Youth Olympic Games to World and European crowns.
Lynsey Lockey, England Boxing's events manager, said interest in the tournament has promoted organisers to extend the deadline for entry by a week to 30 November.
"At the moment, there are significantly more opportunities for men to box than for women, so this event hopes to widen our reach among females," Lockey said.