Wilder v Fury: Stunning draw in WBC world heavyweight title fight
By Luke Reddy
BBC Sport in Los Angeles
Last updated on .From the section Boxing984
Tyson Fury's shot at completing a remarkable return to the top of world boxing saw him survive two knockdowns in an enthralling draw with WBC heavyweight champion Deontay Wilder in Los Angeles.
In one of the most thrilling heavyweight contests for years, the Briton was floored in the ninth round and brutally dropped in the 12th, somehow regaining his feet to survive for two minutes.
Fury had shown plenty of the evasive, counter-punching skill that made his name before his 30-month spell away from the sport and he enjoyed success in the middle rounds.
But in the 12th he lay motionless after a savage combination, barely making the count to see out the contest, which was scored 115-111 for Wilder, 114-112 for Fury and 113-113.
Fury - and much of the ringside media - felt he had won and had he stayed on his feet in the final three minutes, the WBC title would have been his.
After 36 minutes of the most tense and absorbing action, both men spoke of a rematch, which appears a certainty.
Fury, whose promoter Frank Warren claimed "everyone knows" his man had won, said: "We're on away soil. I got knocked down but I still believe I won the fight. I'm showing total professionalism.
"The Gypsy King has returned. I'm a professional athlete who loves to fight. He is a fearsome fighter. The world knows the truth."
Wilder said his two knockdowns meant he "definitely won the fight".
"I don't know if [a rematch] will be my next fight but would love it to be. We need to do it again."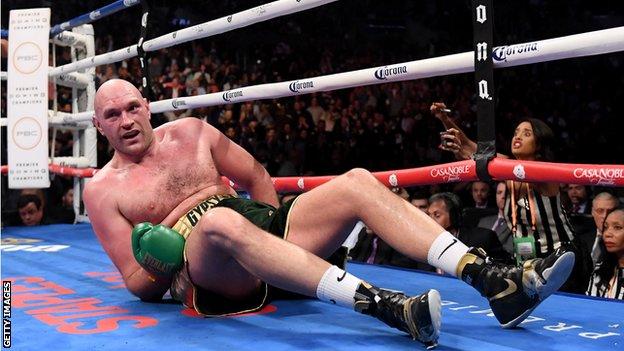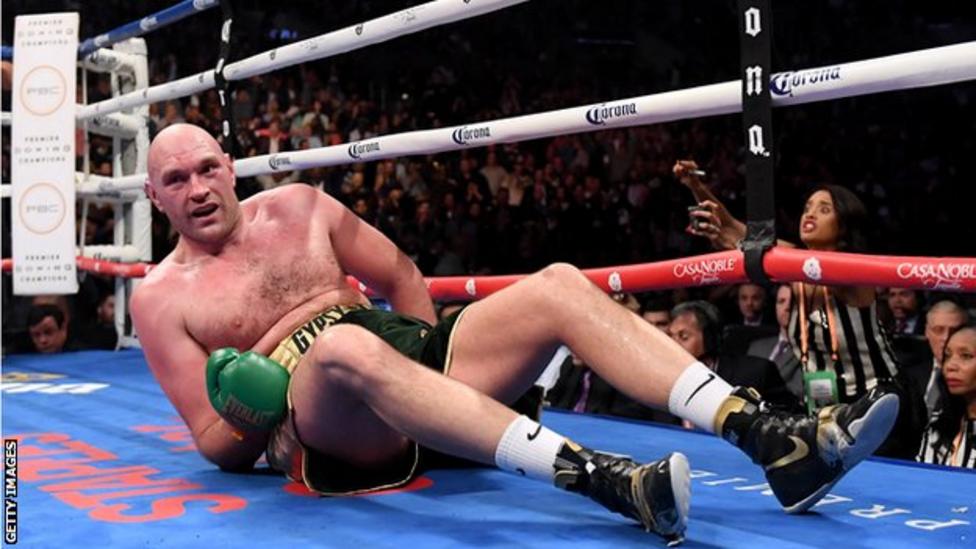 'How did he get up?'
Those at ringside - who included boxing greats Floyd Mayweather, Evander Holyfield, Lennox Lewis and James 'Buster' Douglas, as well as actress Hayden Panettiere and footballer Zlatan Ibrahimovic - were left asking the same question after the fight: how did Tyson Fury get up?
The right hand and left hook Wilder landed cleanly in the final round were crushing and looked certain to have ended the contest.
"I saw his eyes roll into the back of his head. I was like it's over," Wilder said afterwards.
It would have been cruel. The 17,698 in the Staples Center had seen Fury contribute immensely, landing punches time and again and goading his rival.
Wilder's ring walk was accompanied by his WBC belt being lowered into the ring under spotlight, while Fury worked pads with trainer Ben Davison, seemingly oblivious to the spectacle.
The Briton frustrated his big-hitting American counterpart but produced blows of his own, landing a stunning left-right in the seventh that prompted Wilder to give chase and swing to no avail as Fury evaded.
But the threat from a man with 39 knockout wins remained always in evidence, as some at ringside watched through their hands.
The power punches duly came, a chopping right hand behind Fury's ear sending the Briton down in round nine. He held on, ducked, bravely punched back and survived, somehow.
And so to the 12th, three minutes few will forget. Wilder looked a little stunned to see his rival come back for more after crashing to the mat and the bell brought roars of appreciation from the crowd.


'The division is alive and well again' - Analysis
Mike Costello, BBC boxing correspondent
This has been a memorable night here in Los Angeles - be in no doubt that the heavyweight division is alive and well again.
It has been such a compelling night with Fury in control for so, so long. He was almost in tears here at ringside as he took a warm embrace from his brother. This has been a long road back for him in so many ways.
If you are looking at the images of him being pounded to the canvas, you cannot believe how the man rose to his feet after a colossal right hand from Deontay Wilder.


Slick and durable Fury is back
The noisy singing of God Save The Queen at the Staples Center was evidence of a healthy British support in the arena - and, indeed, Fury has re-emerged as something of a people's champion after time spent away from the sport to overcome depression, during which he also accepted a backdated two-year UK Anti-Doping ban.
But two routine wins since his June return taught little, and his 10-stone weight drop proved more of a talking point than his performances.
Fury was an underdog with bookmakers, and his own team admitted this challenge had come six months sooner than they would have preferred. But he took a chance, knowing it could be a fleeting one, given the clamour for Wilder to face Anthony Joshua in a bout for all four world titles.
After this display, he has shown he is legitimately back in the mix. The man who held three world titles after his surprise victory over Wladimir Klitschko in 2015 showed his trademark body and head movement, and frequently flummoxed Wilder with his quick feet and counter-punching.
The jab was slick, his right hand landed frequently, and despite the dramatic weight loss, his punch resistance and durability were truly remarkable.
One of Wilder's team likened Fury to WWE wrestler The Undertaker, such was his 12th-round 'back-from-the-dead' recovery.
It has been a remarkable three years. From world champion to depression, and ballooning to 28 stone, Fury is, somehow, back among the elite names of the glamour division.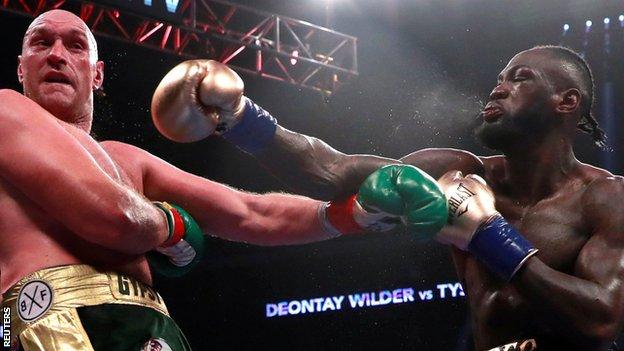 Wilder-Fury II - Vegas? Wembley?
Wilder showed why he is champion. Even when frustrated by his opponent, he found a way to deliver crucial blows. His performance - and this captivating bout - will do his profile no harm in the US.
The heavyweight scene has stagnated in the country but Warren said Las Vegas would be desperate for a rematch, while a UK meeting would undoubtedly sell out a stadium.
Fury earned a reported £7m for his work, Wilder £3m more. Both men remain undefeated. They will earn even more when it happens again.
After an incredible night of drama which delivered on the hype, surely it has to?
'AJ, where are you? - what they said
Promoter Frank Warren on BT Sport Box Office: "It is a draw but everyone knows [Fury] won it and we will want to do a rematch. How could a fight like this not be a rematch? It is unfinished business.
"In Britain that is an 80,000 job. Vegas will be drooling for this. When was the last time you saw a great fight in the USA."
Tyson Fury: "We're the best two heavyweights on the planet. There is another heavyweight who is a chicken. Joshua, where are you?"
Deontay Wilder: "I did not sit still, I was too hesitant, I started overthrowing the right hand. I was forcing my punches too much.
"When I rush my punches like that I'm never accurate. The rematch I guarantee I'm going to get him."
Tyson Fury's trainer Ben Davison: "I told Tyson before the fight he would beat him with his left hand. We didn't come here for money to get through the fight, we came here to win and I'm sick and gutted."
WBC president Mauricio Sulaiman to BBC Radio 5 live Sportsweek: "I think the draw is well taken. It could have gone either way. It was a great fight. The two knock-downs were the defining factor of the fight.
"Several rounds were very close - a few punches makes the difference. "
How the sporting world saw it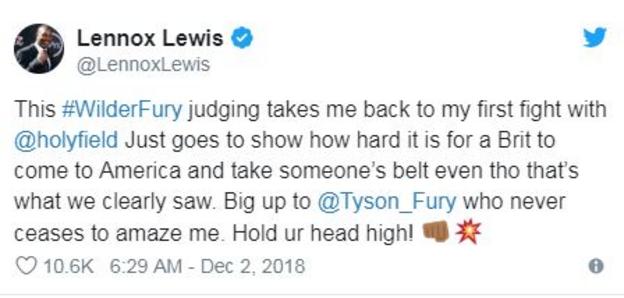 Manny Pacquiao, former eight-division world champion: Respect to Fury for sticking to his game plan and to Wilder for closing the gap with two huge knockdowns! Can't wait to see the rematch.
Amir Khan, former unified light-welterweight world champion: What a fight. Wilder v Fury has to be up there as one of the best heavyweight fights I've seen. Well done to my friends Tyson Fury and Tony Bellew. Enjoy Christmas lads. Well deserved.
Three-time NBA champion LeBron James: Man that was the funniest/craziest fight I've ever seen in my life. What the H-E-L-L just happened?
Manchester United legend Rio Ferdinand: As a sportsman what Tyson Fury has done tonight must be respected. What he has been through in his personal life, to put in a performance like that.