Adonis Stevenson goes 'from critical to stable' after 11th-round knockout
Last updated on .From the section Boxing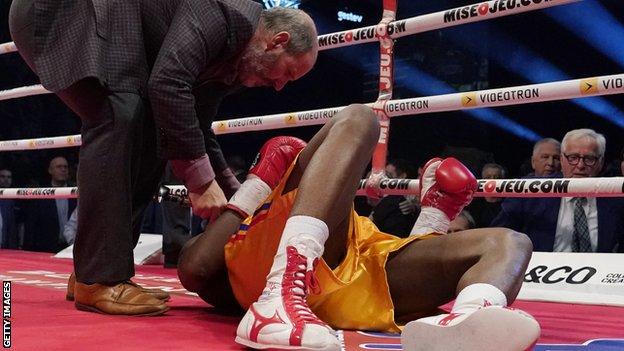 Adonis Stevenson's condition "has gone from critical to stable" after losing his WBC and lineal light-heavyweight title to Ukrainian Oleksandr Gvozdyk in Quebec City.
Stevenson, 41, boxing's oldest and longest-reigning champion, suffered an 11th-round knockout on Saturday, slumping after a flurry of punches.
He was put on a stretcher before being taken to hospital by ambulance.
Stevenson's promoter Yvon Michel had said his boxer was in intensive care.
In a statement on Sunday, Michel said: "The state of Adonis has gone from critical towards stable from yesterday to today which is a relatively good news.
"He is in controlled sedation to facilitate his recuperation.
"His family, his wife Simone and Groupe Yvon Michel would like to thank the many people who have taken the time to send comforting messages.
"New information will be published has we get it. No other comments will be made until then."
Unbeaten Gvozdyk, 31, told a news conference on Saturday night: "I talked to the people at the hospital. He was very confused when he arrived, we suspect a concussion. It's very disturbing."
Earlier on Sunday, Michel tweeted his thanks on behalf of Stevenson's wife and family: "Thank you for your many messages of encouragement and support. #Superman is currently under careful medical supervision of very competent doctors in a controlled environment. #hope."
The World Boxing Council tweeted after the fight on Saturday: "The WBC and boxing community from the world join in prayers for the safe recovery of our dear friend, great fighter and exemplary human being @AdonisSuperman,"
Stevenson was making his 10th title defence since winning the belt in 2013 by defeating American Chad Dawson.
He successfully defended the title against Britain's Tony Bellew.
Gvozdyk, who won an Olympic bronze medal for Ukraine at the London 2012 Games, claimed the belt in his first shot at a major title.