Deontay Wilder 'can't wait' for rematch with Tyson Fury
Last updated on .From the section Boxing257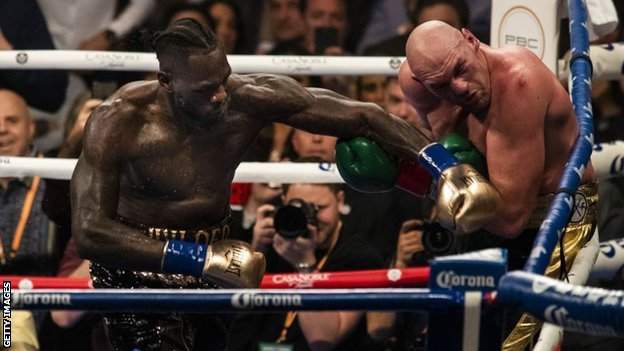 WBC heavyweight champion Deontay Wilder says he "can't wait" to face Tyson Fury again, following their controversial draw in Los Angeles on Saturday.
Wilder twice knocked down Fury during the fight, but many observers felt the Briton should have won.
And Fury, 30, said he thought the 33-year-old American would try to avoid a rematch with him "at all costs".
Wilder claimed he won the fight and was the "more aggressive fighter and landed the more effective punches".
In a post on Instagram, he said: "You saw the best Fury but you did not get the best Wilder and I still managed to get the job done."
He added: "At the end of the day, boxing wins. The fans are the real winner and I can't wait for Wilder Fury 2 to end the controversial talk around the world once and for all."
Wilder's trainer Jay Deas said earlier he wanted his fighter to take on Fury again before a potential bout with IBF, WBO and WBA champion Anthony Joshua.
On Tuesday, Briton Joshua wrote on Twitter: "What took this fool [Wilder] so long? Like we ain't been interested?!!
"Anyway well done Fury! They wanted to get you because they assumed you was finished!! I'll give you a fair one when your ready! Either one of you!"
Saturday's fight was scored 115-111 for Wilder, 114-112 for Fury and 113-113, with Alejandro Rochin the judge who had the American as the winner.
Fury said he had "never seen a worse decision in my life" and described it as a "gift" for his opponent.
His promoter Frank Warren said he and the British Boxing Board of Control would write to the WBC demanding another bout.
Fury was also backed by a number of former world champions, including Floyd Mayweather, Lennox Lewis, Tony Bellew and Carl Froch.
Was the count for Fury too slow?
One of the biggest talking points of the fight was Fury's incredible rise from the canvas in the 12th round, when the former champion received a count from the referee. He recovered and finished the fight strongly.
Wilder has questioned if referee Jack Reiss' count was too slow.
When a boxer is knocked down, the referee will count over them until they get back on their feet unaided by the count of 10 seconds.
BBC boxing correspondent Mike Costello says the length of Reiss' count would be "looked back on".
Speaking on BBC Radio 5 live's boxing podcast, analyst Steve Bunce added: "My gut feeling is it looked to me like Fury started to get up at eight, was he up at 10? That will be debated. It would have been venomously debated if he [Fury] had walked away with the win and the agenda would be 'it was a long count'.
"It was 25 seconds from the punch to the instruction to 'box on', which is probably the long side of what happens."
Wilder said Reiss was an "amazing ref", but added: "Did the count start 3-4 seconds too late or was the count too long? is the question many are asking and debating about."