Josh Warrington beats Carl Frampton to retain IBF world featherweight title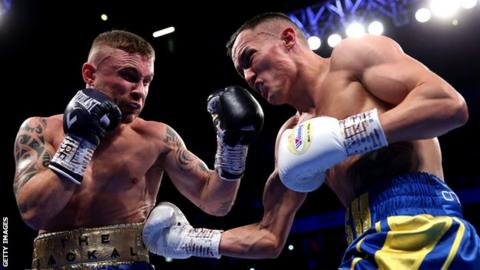 Josh Warrington retained his IBF featherweight world title as a blistering start set up a unanimous points win over Carl Frampton in a fight-of-the-year contender in Manchester.
Captivating from start to finish, the Englishman's staggering work-rate laid the platform for a hugely impressive win - his 28th in succession.
Having narrowly avoided being dropped in the opening round, Frampton fought gallantly with wonderful shot selection to tighten up the contest in the middle rounds.
However, the Northern Irishman could not reverse the damage sufficiently as he slid to defeat in a world title fight for the second time.
Warrington now looks set for a unification bout against one of the division's other belt holders, with WBO champion Oscar Valdez his most likely opponent.
Two judges scored the fight 116-112, with the other scoring 116-113.
"My hands are sore and I've got bruises on my head but I've done it. I've shown what I'm about," he told BBC Radio 5 live.
"If you had said last year that I would've beaten Lee Selby and Carl Frampton back to back, people would've laughed in your face.
"I think I earned his respect as soon as I hit him, but it was always about controlling the pace. I've always had self-belief and I've had it for a long time.
"I don't feel pressure now once I get into a building because I get this massive energy from somewhere. Once I'm in there, I feel I can't be beaten."
Warrington again defies bookmakers
The styles of the fighters pointed to this being a classic featherweight contest, and so it proved, with both men backed by raucous support to create a memorable night.
Warrington seized the belt with a wonderful display of front-foot boxing against Lee Selby in May, but still few could have anticipated the incredible onslaught he produced in the opening two rounds, twice rocking Frampton with a terrific flurry of shots.
Frampton, having sustained a cut under the left eye, worked his way back into the fight and landed several neat hooks but it was the champion who continued to produce the more eye-catching combinations.
Little separated the pair from the third round onwards, with Warrington remarkably catching a second wind in the eighth to stop Frampton seizing the momentum in the crucial final rounds.
The Belfast fighter had pointed to Warrington's record of just six knock-outs as evidence of a lack of power, however in the opening exchanges no such limitation seemed to hamper him.
Frampton was sent rocking across the ring and seemed certain to hit the canvas for the first time in seven fights but remained on his feet and managed to close out the second round.
In the build-up to the fight the pair were at pains to point out that the apparent absence personal animosity would not dilute the end product and so it proved, with Warrington describing himself as a "Frampton fan" in the immediate aftermath while the defeated fighter stated that he had no complaints with the result.
A standing ovation from the entire crowd seemed a fitting conclusion to the bout, which promoter Frank Warren described as "the best fight I have ever seen".
What next for Warrington and Frampton?
Given the absorbing nature of the contest, one could be forgiven for pleading the case for a rematch. However, Warrington will rightfully have the opportunity to unify as he once again showed he is more than worthy of his world champion status in one of boxing's most competitive divisions.
Should Valdez come through his title defence next month, the undefeated Mexican is his most likely opponent and had already signalled he wanted to face the winner of this fight.
For Frampton, the loss is a severe blow to his desire to meet WBA champion Leo Santa Cruz for a third time, with the 31-year-old hinting he will consider his future in professional boxing.
Having lost the belt to Santa Cruz in January 2017, the Belfast man has spent the past two years plotting a path back to the top of the division and eventually landed his world title shot in his fourth fight with new trainer Jamie Moore.
One of the best fights I've covered - analysis
Mike Costello, BBC Sport boxing correspondent at Manchester Arena
It's very high among the best fights I've covered at ringside. Very rarely have we seen something like we have seen here tonight.
This has the making of a fight of the year nominee because the two men showed such determination, such resilience and such skill, that we ended up with something very memorable.
Carl Frampton competed at an elite level tonight but the question is how much has that taken out of him? He's lost a world title before and knows how tough it is to climb back. He has to ask himself that question because the desire to fight is like elastic in your socks. Once you've lost it, you can't get it back.
The plan was definitely to apply controlled pressure because he felt he had the greater strength in those exchanges. But the way Warrington closed the gap between him and Frampton in those exchanges was key in the fight.
It was a phenomenal performance from Warrington for a first defence of his title.