Kash Ali bite incident: David Price says opponent 'wanted to get thrown out 'of fight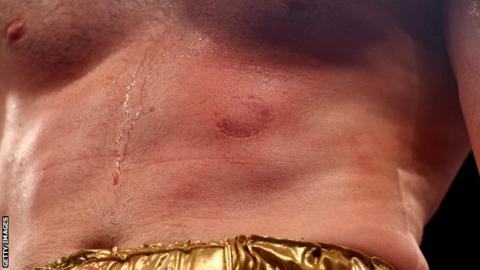 David Price says Kash Ali chose to bite him because he "wanted to get thrown out" of their all-British heavyweight bout in Liverpool on Saturday.
Ali has had his boxing licence suspended pending a hearing and his fight purse withdrawn following the incident.
Price, 35, used to spar with Ali and said the bite was "out of character" for the 27-year-old.
"It was weird, I was in shock," Price told BBC Sport.
"If he wanted to he could have torn a chunk out of my skin - but he didn't. He didn't do it hard enough to do that because he didn't want to, he just wanted to do enough to get thrown out, in my opinion.
"It probably would have hurt a lot more if the adrenaline wasn't pumping, but because it was out of the blue and wasn't expected, I didn't feel the pain as much.
"It was a strange experience."
In the fifth round, Price landed a stinging shot on undefeated Ali, prompting a grapple. Ali fell on top of the Liverpudlian and appeared to bite Price near his rib cage.
Price claims Ali had bitten him "a couple of times" in earlier rounds - which he says he flagged up to referee Mark Lyson - leaving him with further bite marks on his neck.
"I think he knew going in that he was going to be up against it. They tried every way they could to try and make things go in his favour by trying to get under my skin at the press conference, which they did," said Price.
"I went into the fight and stuck to the boxing instructions I was given by my trainer and what I had in my own head, but he was fired up before the first bell, pacing up and down the ring, staring at me, shouting things. I was staying cool.
"Once he realised he wasn't going to get me out of here, rather than get knocked out he'd get disqualified.
"It's given him notoriety. It was a silly decision to make and I'm sure he regrets it. It was just madness."
'Everyone makes mistakes'
Saturday's victory at Liverpool's M&S Bank Arena extended Price's record to 24 wins and six defeats and was a first loss of Ali's 16-fight career.
Ali will appear in front of the British Boxing Board of Control's central area council on a date yet to be set, and could face sanctions ranging from a fine to a ban.
British former world cruiserweight champion Tony Bellew called for Ali to be banned, a view shared by BBC Radio 5 Live boxing analyst Steve Bunce, who said "there isn't much to investigate".
In the aftermath of the incident Price called Ali an "animal", but he told BBC Sport on Monday he is "not really bothered" what punishment is handed out.
"The fight has happened now and, although he did bite me, it could have been a lot worse," he said.
"Everyone makes mistakes. At the end of the day, he's made a big mistake."
Asked if he thought Ali would have been capable of biting, Price said: "No, never. He was always quiet - a good man, with respect.
"It's boxing and you do what you can to get in your opponent's head or give yourself an edge - but bringing the teeth out was the last thing I thought would happen.
"It's boxing at the end of the day, but it's a gentlemen's sport and it has been brought into a bit of disrepute.
"He doesn't represent what boxers are about. The vast majority of boxers are good sporting people and good competitors."