Britain qualify slalom boats for 2012 but miss world medals
Last updated on .From the section Canoeing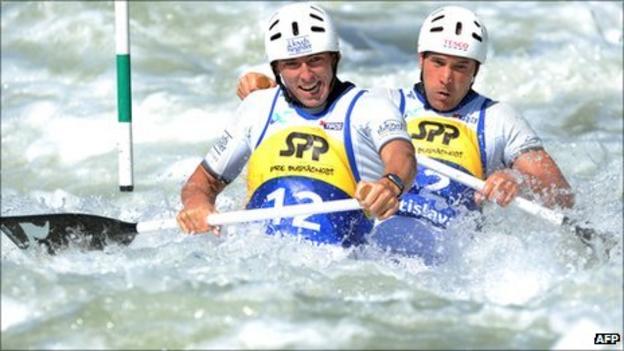 Britain's slalom canoeists qualified two boats for next year's Olympics at the 2011 World Championships on Saturday, but missed out on medals.
David Florence and Richard Hounslow, bronze medallists last year in the two-man C2 category, had to settle for fourth this year in Slovakia.
Team-mates Tim Baillie and Etienne Stott were sixth, while Fiona Pennie finished fifth in the women's K1 event.
The results mean Britain has qualified one boat from both categories for 2012.
However, Florence and Hounslow now look set to face Baillie and Stott in a race-off for the right to paddle in the British men's C2 boat at the Games.
Finishing outside the medals this year means vital Olympic qualification points needed to qualify an extra boat were missed.
"We probably paddled better than at last year's world championships, but this year David and I had to settle for fourth place," Hounslow wrote on his official website.
"Hats off to the top three boats - they made faster, riskier plans, and pulled them off.
"Without the advantage of the Olympic selection bonus points that were available for winning a medal this weekend, it looks like it will go down to a straight race-off next year [against Baillie and Stott] for the Olympic spot.
"All very frustrating, but that's the way sport goes."
Stott and Baillie have already come through one race-off this year after injury stopped them being selected to the 2011 British squad at the start of the season.
Their recovery from a number of setbacks to finish sixth in their final in Bratislava, behind Hounslow and Olympic C1 (single-man canoe) silver medallist Florence, impressed GB Canoeing performance director John Anderson.
"The most inspiring individual performance of the day was that of Tim Baillie and Etienne Stott who, despite the worst preparation imaginable this year, have shown their determination and grit and beaten all the odds," said Anderson.
"Achieving a fourth and sixth place in the Men's C2 just shows the high level of consistency within the team, who are time and time again the top boats in the world."
Racing continues on Sunday when the remaining Olympic classes, the men's K1 and C1 events, conclude, as does the non-Olympic women's C1.