London 2012: Tom Quinn hopes for home advantage
Last updated on .From the section Canoeing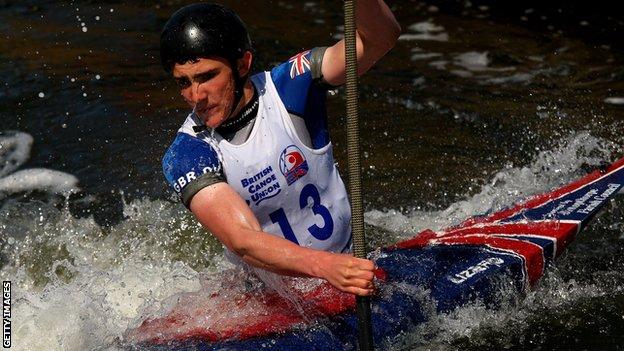 Canoeist Tom Quinn is hoping being familiar with the Olympic slalom course will help him earn a place in the Great Britain team.
The 21-year old from York is working towards the trials in April and a place in either the C1 or C2 category.
He told BBC Radio York: "I'm spending a lot of time on Lee Valley which is where the Olympics are going to be held and our selection races.
"Obviously learning the water is key so I'm down there quite a lot."
Quinn has been the British National Junior Champion three times, the English National Senior Champion and a Junior and Under-23 European finalist.
He said of the trials: "It's going to be a tough race but currently I'm ranked third in the country in C1 and second in C2 so it's all to play for really.
"There's one Olympic C1 spot and possibly two C2 places so I'm in prime position for C2.
"I'm just training as hard as I can making sure I'm training properly and my recovery's right.
"Every course is different. Lee Valley is probably one of the toughest courses in the world because it's been specifically built for the Olympics.
"Home advantage is really useful because you just know it.
"I'm racing people who are a good eight or nine years older than me at the moment.
"It comes down to experience but it means I've a lot more years ahead, looking forward to Rio 2016 and then on from that in 2020 as well.
"But it will come down to it on the day. I'm going to try my hardest and hoping I will be selected."