McKeever hopes lower-profile will aid Rio Olympic gold campaign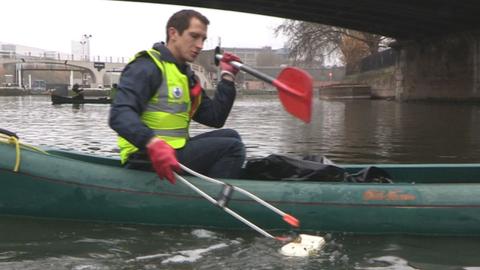 The London Olympics promised to make household names of any British athletes who could attain success at their home Games.
Forty eight Team GB athletes won gold medals, either individually or as part of a team event, and over the subsequent months television appearances, endorsement deals and award ceremonies have made stars of previously lower-profile athletes like Nicola Adams, Greg Rutherford and Jade Jones.
However there is one winner who has not experienced the same exposure - Ed McKeever.
The 28-year-old sprint canoe specialist claimed K1 200m gold on the morning of Saturday 11 August, but stayed in the headlines for just a few hours.
That evening Mo Farah completed his middle-distance Olympic double with victory in the 5,000m, Usain Bolt anchored Jamaica's 4x100m relay team to gold and Tom Daley's emotional diving bronze medal became one of the year's most-watched events.
McKeever, however, has no resentment about the attention others have received.
"You can't say yes to everyone and everything that comes your way," McKeever told BBC Sport.
"I suppose I have been a little quieter than others, but I like to do things that I feel are important and will make a difference."
Just a month after the Olympics he wed fiance Anya Kuczha.
They delayed their honeymoon until Christmas, but not so the athlete could pursue money-spinning appearances. Instead, care home visits, school appearances and even cleaning waterways were on McKeever's itinerary.
"For me it's important to inspire children growing up," stated the London 2012 champion, who was speaking at a National Lottery backed Olympic legacy event.
"It's quite funny, at first I thought the parents were worse than the kids, because they are all the ones that want to have a photo.
McKeever, whose K1 200m event made its Olympic debut in London, continued; "when you open up the medal box and take out the gold medal everyone's faces light up and all the kids go crazy."
It is clear that it is their reaction to his medal, rather than himself, that gives the Bradford-on-Avon born athlete the most pleasure.
That alone would support the suggestion he would not relish a post-sporting career in the media spotlight, but the fact McKeever is studying to become a qualified ACCA chartered accountant perhaps provides stronger evidence.
"I love canoeing but I'm not in it for the money," said McKeever. "Accountancy is more thinking about forging a future career.
"That said, getting ready for my ACCA exams is a lot more stressful than preparing for a race!"
It will be late 2016 before he looks at a post-canoeing career with any serious thought though, because while he was initially hesitant to commit himself to the Rio Olympics, the former world champion admits it is now a real target.
"Seeing how happy winning a gold medal made everyone, it would be a shame not to try and win another [in Rio]," joked McKeever.
He also believes that pursuing a slightly different post-Olympic routine to his team-mates will aid his mission to defend his title in Brazil.
"I think it [being lower-profile than others] can help," stated McKeever, who feels the British team can dominate the sport in years to come.
"I'm in a position where others will now want to beat me even more and I need to work very hard."
McKeever, who will be 32 come the next Olympics, continued; "It may sound strange, but I've always thought I can do better and I know in four years' time I'll have to be a lot fitter and faster."
The 2016 Games may lie well in the future, but his 'road to Rio' will begin in May with the first round of the World Cup in Szeged, Hungary.