Tim Brabants retires from canoeing at the age of 36
Last updated on .From the section Canoeing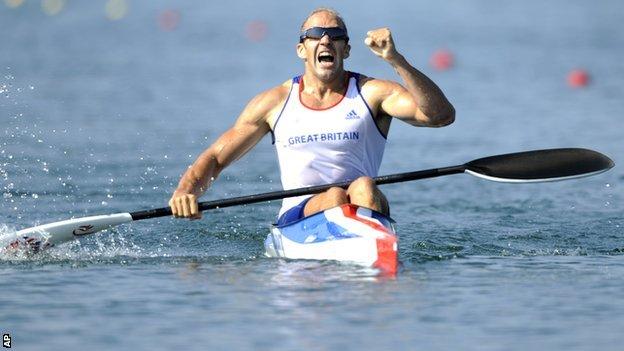 Former Olympic canoeing champion Tim Brabants has retired from the sport.
"This has been an incredibly difficult decision to make," said Brabants, who was awarded an MBE in 2009 and will now pursue a career in medicine.
"But reluctantly I realise I have reached the point where I need to retire from the sport."
Brabants is Great Britain's most successful Olympic canoeist, having appeared at the Games four times, and his victory in Beijing earned Britain a first gold medal in canoeing.
He also won bronze medals in the K1 500m race in Beijing and in the K1 1,000m event at the Sydney Games in 2000.
A former World and European sprint champion, he made the eligibility criteria to be selected for Team GB at the national selection events in Nottingham last weekend.
"It is a difficult decision and it is not based on this weekend, because I have done well enough to be selected to race internationally from my results," said Brabants.
"But it wouldn't be right to just keep competing for the sake of competing and, when you're not getting your best results, it wouldn't be fair on my family or on the other athletes in the sport that are trying to come through."
He continued: "Now is the time to step back, get back into my medical career and see where the next few months take me.
"I would like to stay involved in the sport in some way and my level of involvement will become more apparent over the next six months to a year."
GB canoeing performance director John Anderson added: "Tim Brabants has been a true champion and a huge inspiration for athletes in canoeing in the UK.
"When he won the first ever Olympic medal for GB in sprint canoeing at Sydney in 2000 he led the way for other athletes in our sport."