Hannah Craig eyes Olympic Games return in Rio 2016
Last updated on .From the section Canoeing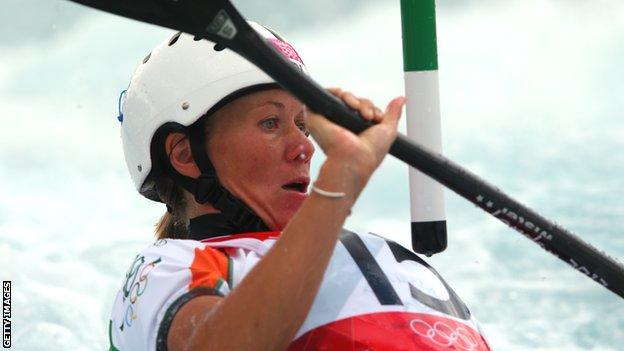 Hannah Craig begins her quest to make the Rio Olympic Games in 2016 by competing in the European Slalom Championships in Poland this weekend.
The Armoy woman became the first Irish female paddler to reach an Olympic final last August when she finished tenth in the K1 class.
"I got the Olympic bug in London and I really enjoy the idea of carrying out a project over four years," said Craig.
"Our Road to Rio strategy has already been put in place.
She added; "As someone put it the other day I already know what I'm going to eat for breakfast on the 8 August 2016.
"I performed in London and exceeded all expectations by reaching the final and I know that I can perform in Rio and potentially walk away with a medal around my neck."
Craig's husband Han Bijnen is also her unpaid coach and funding issues could prevent the County Antrim canoeist from achieving her dream.
"It will remain a dream and one that I cannot make reality if I don't have a full-time paid coach and that's where the funding remains an issue," she added.
"I have the ability and above all there is a triple Olympic coach, a committed training partner and a great team of high performance professionals from the Sports Institute of Northern Ireland behind me.
"Now all I need is the performance structure and financial harmony to pull it all together and who knows how far we could go.
"One thing I have learned from being an athlete is that success is never achieved alone."