Lani Belcher keen to bounce back from London 2012 disappointment
Last updated on .From the section Canoeing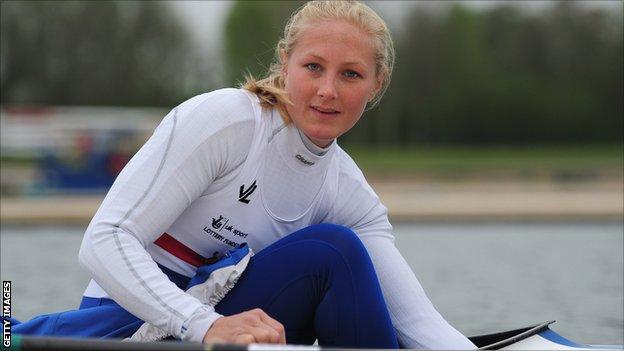 Great Britain kayaker Lani Belcher has vowed to use her Olympic heartbreak as motivation at the World Championships.
Belcher controversially missed out on selection for last year's Games and admits she then considered her future in the sport.
"It was definitely a tough year," Belcher told BBC South. "Not to give up and to instead stick with it was hard.
"I am just looking forward really. What has happened has happened and there is nothing I can do to change that."
She added: "I could either dwell on it and not get anywhere or use it as motivation and that is what I want to do and move forward from here."
Belcher will take her place in the K4 at the Canoe Sprint World Championships in Duisburg, Germany, having switched from the K2.
The 24-year-old is targeting a place in the final but admits that for her, the K4 is still a learning curve.
"It's my first time in the K4 and every time we go out on that boat I am constantly learning," she said.
"I need to remember that as an athlete you are always tough on yourself and people make mistakes and you need to learn from them."
Olympic champion Ed McKeever is another competing in Germany, with the 29-year-old featuring in his usual event, the K1 200m.
McKeever, also a previous world champion, says he does not feel added expectancy to win.
"Life is fairly similar," he told BBC South.
"I still train every day and get on with my life. The sport still has a fair way to go and that legacy from the Games will take a fair bit of time to kick in.
"But the pressure is reduced. I've taken a more relaxed approach to this year.
"I'm still training hard, I'm the Olympic champion, I've won the World Championships before and there is nothing new coming."
McKeever, who intends to defend his title at the 2016 Olympics in Rio de Janeiro and is also targeting victory in Germany, added: "I wouldn't be here now if I wasn't planning to go [to Rio]."
Olympic finalist Jess Walker, who lost her place in the K1, has now teamed up with Hannah Brown in the K2 and is enjoying the new challenge of being in a pair.
"I'm enjoying the break from the K1 but I am concentrating on that as part of my training for the next three years," Walker told BBC South.
"I'm liking the new challenge. I'm in the back of a boat and I normally drive, but I'm happy to follow her.
"I do miss the K4 but that has got other challenges I can't cope with this year."
Walker, who has been to two Olympic Games, added: "I don't feel any pressure, which is weird as I normally thrive on the pressure, but I am enjoying it and have my own goals."