Canoe sprint Worlds: British K4 women miss out on final
By Ollie Williams
BBC Olympic sports reporter in Duisburg
Last updated on .From the section Canoeing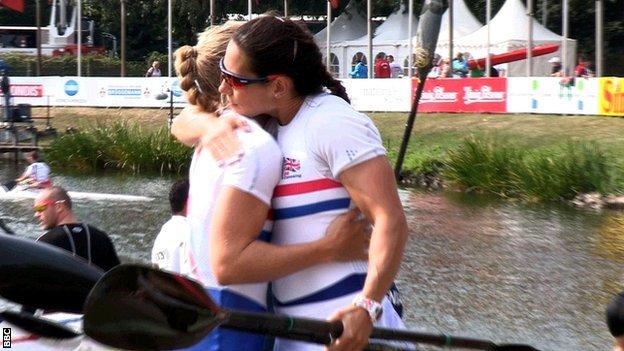 The British women's K4 crew failed to reach their final as GB's top boats otherwise looked strong at canoe sprint's World Championships on Friday.
Lani Belcher, Louisa Sawers, Hayleigh Mason and Angela Hannah finished sixth in their K4 500m semi-final.
Olympic champion Ed McKeever won his opening K1 200m heat in Duisburg, as did London 2012 bronze medallists Liam Heath and Jon Schofield in the K2 200m.
Rachel Cawthorn, Jessica Walker and Hannah Brown came through their heats.
Cawthorn finished second in her K1 200m heat having already qualified for Saturday's K1 500m final - both are Olympic disciplines.
Wildwater world champion Brown and double Olympian Walker, who together missed out on the final of the K2 500m, were second in their non-Olympic K2 200m heat.
"It's been an interesting day. I was a bit disappointed for our women's K4. The girls will be disappointed with that," GB performance director John Anderson told BBC Sport.
"Our Olympic medallists from London look in really good shape and the K2 200m women are a new pairing that looked a good boat, with the fourth-fastest time overall going into their semi-final.
"On balance, I'm going away reasonably happy. It's a four-year programme and if we can put some markers down here in year one, then great."
The K4 quartet will contest their B final on Sunday, as will Kristian Reeves in the non-Olympic men's K1 500m event.
K4 crew member Mason said on Twitter: "All that hard work in the winter, after a very, very, very tough summer...it didn't pay off. Gutted."
Richard Jefferies did just enough to go through to his C1 200m semi-final, finishing sixth in his heat with seven progressing.