Canoe sprint Worlds: Britain's Rachel Cawthorn fifth in final
By Ollie Williams
BBC Olympic sports reporter in Duisburg
Last updated on .From the section Canoeing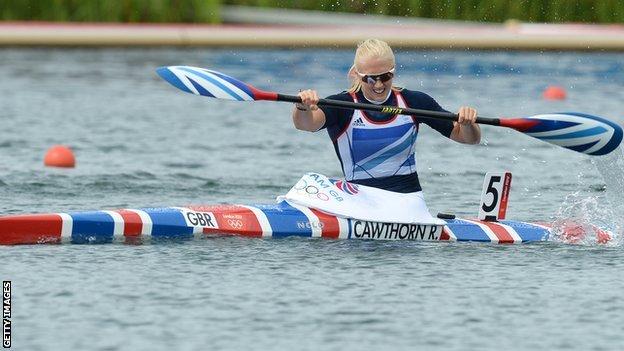 Britain's Rachel Cawthorn came fifth in her K1 500m final at canoe sprint's World Championships in Germany.
"I firmly believe she will be a major contender over the next three years," said GB Canoeing's John Anderson.
GB's Olympic champion Ed McKeever and Olympic bronze medallists Liam Heath and Jon Schofield reached their finals.
Cawthorn, who failed to reach the final in her first major international outing over the shorter K1 200m distance, struggled to catch the top three in the final of the 500m.
Hungary's Danuta Kozak won the race in one minute 57.395 seconds, ahead of Germany's Katrin Wagner-Augustin and New Zealand's Lisa Carrington.
Cawthorn's time of 2:01.335 left her 2.716 seconds off the podium.
"I'm quite happy with it, especially if I take a step back and think about the rest of this year," she told BBC Sport.
"You're always going for somewhere in the top three and it's always a bit disappointing, but I started the year a bit dodgy and I'm quite happy with how it's picked up through the season."
British performance director Anderson said Cawthorn, who suffered post-viral fatigue and lost months of training after her world bronze in 2010, can take heart from fifth place.
He told BBC Sport: "Rachel's still a very young athlete, relatively. Time is on her side and she's a real talent."
McKeever came second in his K1 200m semi-final, as did Heath and Schofield, who were edged out in the K2 200m semi by Russian Olympic champions Alexander Dyachenko and Yury Postrygay.
Jessica Walker and Hannah Brown will paddle in Sunday's final of the non-Olympic women's K2 200m event.