London 2012 Olympic canoe champion Tim Baillie retires
By Ollie Williams
BBC Olympic sports reporter
Last updated on .From the section Canoeing
London 2012 Olympic canoe slalom gold medallist Tim Baillie has retired.
The Aberdeenshire-born 34-year-old won gold in the C2 event alongside Etienne Stott, ahead of David Florence and Richard Hounslow.
"In London, in many ways we achieved what we set out to do," said Baillie. "I feel very, very proud of the performance Etienne and myself put in.
"We were fantastically fortunate to be able to race at a home Olympics, let alone have a good result there."
Baillie and Stott had been competing together in the two-man event for almost a decade. They overcame a series of injuries and their unofficial status as Britain's second-string crew to win Olympic gold in a stunning day of racing at the Lee Valley slalom centre.
Now, with Stott recovering from his second serious shoulder injury, Baillie admits he no longer has "the underlying desire" to continue the intense training regime required.
"I'd quite like to go canoeing once a day, but I don't want to do it enough," Baillie, who married Canadian paddler Sarah Boudens last year, told BBC Sport.
"The race results aren't important enough to justify six days a week, two sessions a day. I've done it for a long time, spent a long time missing family, friends and occasions."
Stott, also 34, said: "It's sad because it's the end of a chapter, but I respect Tim's decision and it is the right thing for Tim.
"Tim has helped me so much. He has made a huge contribution to the sport and to me as an athlete."
Stott will now seek a new partner in the sport, while Baillie leaves canoeing with the long-term future of his discipline, the C2, uncertain.
World governing body the International Canoe Federation (ICF), seeking gender equality within the sport, may be forced to drop the C2 to make way for more women's events at the 2020 Olympic Games and beyond.
The International Olympic Committee currently refuses to allow member sports to expand their programmes at the Games, meaning new events (for example, the women's C1 slalom) can only be added by removing existing disciplines.
The ICF has four medal events to work with, and is believed to be considering dropping the men's C2 out of the Tokyo 2020 programme in favour of women's C1.
"The writing does seem to be on the wall for 2020. I think it's incredibly sad," said Baillie.
"It undoubtedly comes down to politics and the unfortunate machinations of that stuff. If C2 drops out of the Olympics it'll become a bit of a sideshow category. As soon as something's not in the Olympic programme, it's going to really struggle.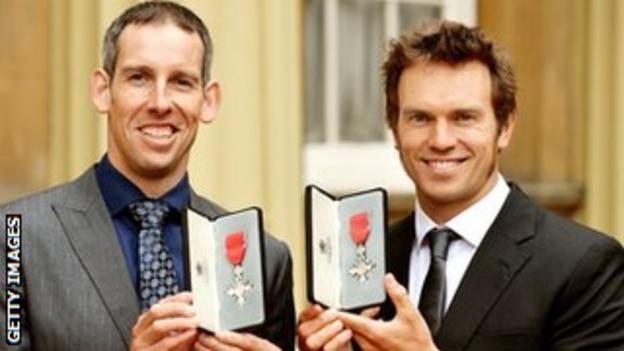 Baillie would prefer that women's C1 and C2 events were introduced alongside the existing men's categories. "It makes total sense to have gender equality. If you're building a whitewater course to give away four medals, why not give away six?"
However, he believes British paddlers will be well-equipped to follow in his title-winning wake at future Games, regardless of the format.
"British Canoeing is in a really good place. As I retire I think there's such a healthy and cutting-edge GB squad," said Baillie, who won world bronze medals in 2009 and 2011.
"The World Championships are in London in 2015, and that was part of the decision I was making, that was very difficult - it was tempting, and then you're a stone's throw from the Rio Olympics. But I had to make a bigger decision about my goals in life.
"Whichever boats go to Rio will be medal-standard, undoubtedly."