Canoe World Cup: Lani Belcher and Rachel Cawthorn win gold
Last updated on .From the section Canoeing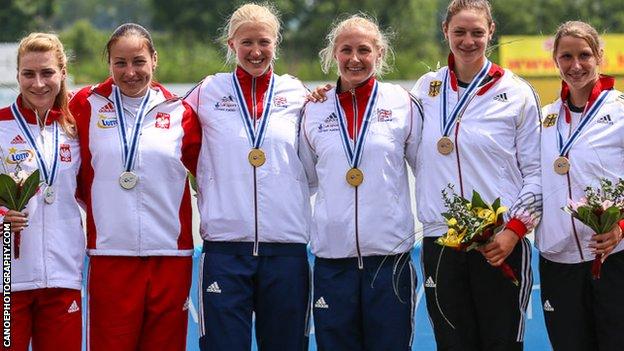 Lani Belcher and Rachel Cawthorn won Great Britain's first international gold medal of the season, in the women's K2 500m event at the ICF Canoe Sprint World Cup.
The victory in Szeged, Hungary, underlined the potential of a new partnership for this season.
"It is quite exciting considering we have only just got together," Cawthorn, a London Olympian, said.
The duo won silver in the K2 200m in Racice, Czech Republic last week.
But they went one better over the longer distance on Saturday leading the final from start to finish to beat the Polish team into second by more than half a second. GB's Angela Hannah and Jess Walker were seventh.
Cawthorn, 25, added: "We just changed our mindsets a little bit, and really hit the start.
"We had confidence from winning the silver. We know we have the speed, and both of us are good endurance paddlers. We are pretty excited about winning gold."
Fellow Londoner Belcher, 24, said: "We already know each other really well, we think the same way, we trust each other and we don't have to remind each other about things during a race.
"We stuck to our plan and I was really pleased with how we just kept the boat running smoothly right through the race."