Etienne Stott likens finding new crew-mate to dating
Last updated on .From the section Canoeing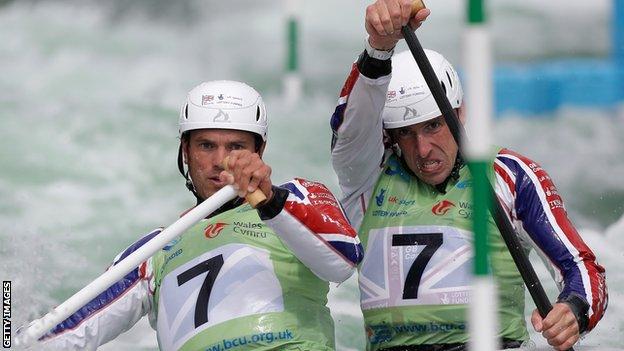 Olympic gold medal winner Etienne Stott has likened finding a new canoe partner to dating.
Stott is currently recovering from a severe shoulder injury, but will need a new crew-mate for the 2015 season.
"It's a little bit like dating. It's about the right time and the right place," the Bedford canoeist told BBC Three Counties Radio.
"People have to be comfortable with what's going on. It has to fit their motivations and it must be the same for me.
"I'm looking to get the foundations of a partnership crisply organised."
Manchester-born Stott dislocated a shoulder for the second time in as many years last June and, after surgery, has yet to race competitively.
He will train in a single-man canoe in the mean time and aims to be back in contention for national selection soon.
David Florence and Richard Hounslow, the British pair who finished second behind Stott and Baillie at London, have gone on to win the World Championships this year.
"This season I can't race at an international level. But I'm hoping to use the rest of this summer to get to a really high level of physical preparation," said Stott, who now trains at the Olympic course at Lee Valley.
"By the end of the year I want to be competing in some of the domestic races to get the rankings to be able to compete in selection trials for 2015."
There are reports the C2 slalom could be dropped after the 2016 games in Rio, meaning any potential partner of Stott's must prepare for the possibility of training for just one Olympics.
"I'm an athlete with a good reputation. Hopefully my credentials are worth something," he said.
"But it has to be worth it for the other person.
"This could be a last chance to compete in C2 at the Olympics. So that makes it exciting but also short term."