Australian Olympian Baggaley pleads guilty to 'meth' charge
Last updated on .From the section Canoeing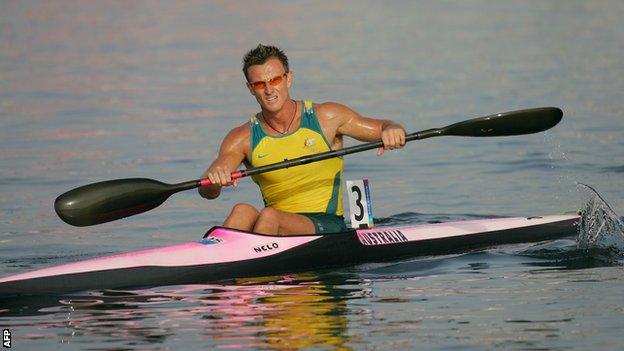 Australia's ex-world kayaking champion Nathan Baggaley has pleaded guilty to two drug manufacturing charges.
The double Olympic silver medallist, 39, admitted conspiracy to manufacture, and manufacturing a marketable quantity of methamphetamine in a Sydney court.
He came second in the K1 and K2 races over 500m at the 2004 Athens Games, and won gold at three World Championships.
Baggaley tested positive for a banned steroid in 2005 and was suspended by the International Canoe Federation.
He originally faced nine charges relating to the manufacture, importation and supply of large amounts of drugs, but after he pleaded guilty to two charges the remainder were withdrawn.
Baggaley was arrested by Australian Federal Police officers in November 2013.
He was accused of being part of a syndicate that set up two clandestine drug laboratories at Tweed Heads in New South Wales and on the Gold Coast in Queensland.
What is 'meth'?
Methamphetamine is part of the amphetamine family of stimulant drugs. The key effects and risks of methamphetamine include feeling very up, exhilarated, alert and awake but also feeling agitated, paranoid, confused and aggressive. There's evidence that long-term methamphetamine use can cause brain damage. The crystal form of methamphetamine, sometimes called crystal meth or ice, is extremely powerful and addictive.
At the time, police said they held concerns for public safety because the labs were located in residential areas and had to be dismantled quickly.
Baggaley, who has been in court on other drug-related charges over the past five years, will be sentenced on 13 March.
His brother Dru Baggaley, 33, pleaded guilty to aiding and abetting and conspiracy to manufacture drugs.
Nathan Baggaley

Sydney Olympics 2000
K1 500m semi-finals

World Championships 2002

K1 500m gold

World Championships 2003
K1 500m gold, K-1 1,000m bronze

Athens Olympics 2004

K1 and K2 500m silver

World Championships 2005
K1 500m gold, K1 1,000m bronze