British Canoeing: Olympic gold medallist Tim Brabants to join coaching team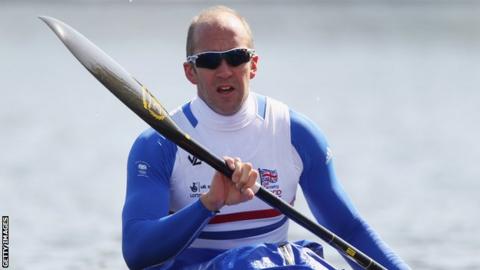 Great Britain's first Olympic gold medallist in Canoeing, Dr Tim Brabants MBE, is to join the team's sprint programme as a technical coach.
Brabants, 40, won gold in the men's sprint kayak 1000m at the Beijing Olympics in 2008.
He was appointed as British Canoeing's chief medical officer last year and combined that role with working at Queens Medical Centre in Nottingham.
Brabants will leave both posts in order to fully focus on his coaching role.
"I'm really excited to have the opportunity to work as part of a team of world class, experienced coaches and with highly motivated and talented athletes.
"I competed internationally for 20 years and now have the chance to use that experience to help develop our current athletes to compete to the highest level," said Brabants.
"I'm particularly looking forward to working with (senior technical lead coach) Rene Olsen and learning from his experience taking athletes to Olympic and World Championship success."
As podium technical coach Brabants will provide assistance in the development of the senior men's and women's Olympic kayak 200m and 500m squads.