Extinction Rebellion: Etienne Stott 'does not regret' arrest in climate change protests
By Katie Falkingham
BBC Sport
Last updated on .From the section Canoeing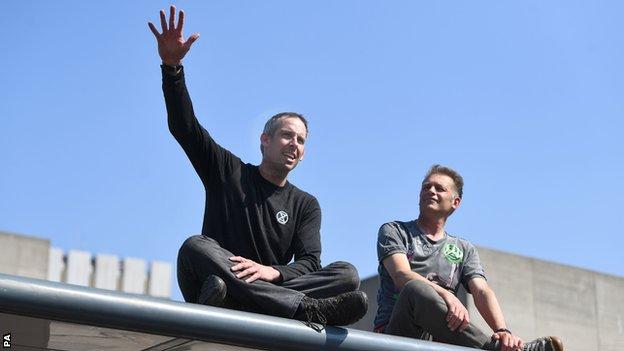 Olympic gold medal-winning canoeist Etienne Stott says he "does not regret" his arrest at the climate change protests in London as the world "needs to turn this catastrophe around".
He is one of 1,065 Extinction Rebellion protestors to have been arrested.
"I sense that this is a big moment," Stott told BBC Sport.
"I am really quite terrified of the prospects for our society and civilisation if we don't take action on climate change.
"The sense of emergency of it is just so important that we need to get a hold of this.
"We are in the situation where we need to turn this catastrophe that we are sleepwalking into around."
Stott was carried from Waterloo Bridge by Metropolitan Police officers after sitting down on the road. Stott had shouted of the "ecological crisis" and earlier given a speech while sitting on top of a bus stop.
The climate change protesters were in Marble Arch on Monday, after police moved protesters from Oxford Street, Waterloo Bridge and Parliament Square.
Stott, who was arrested for 'failing to comply with a condition' under Section 14 of the Public Order Act and for the 'wilful obstruction of a highway', was released under investigation at around 04:00 BST on Monday.
"I'm in a privileged position where I have been given this gold-medal platform. With that platform comes some responsibility," he said. "It's like a power I can exercise.
"I do fully take responsibility for my part in causing the disruption, the stresses and the difficulties it will have caused people.
"The attitude I take is that the reason we are doing this is to prevent the absolutely catastrophic disruption that will come further down the line if we don't get hold of this climate crisis."
Stott said the ongoing protests will have an impact on the fight against climate change but warned society is facing its final opportunities to tackle the issue.
"We're talking about people having no food, running out of water, having miserable lives because of it and our children's futures are under such threat," he added.
"We have to get this moving now. This seems to have been effective, in the last seven days this issue has come up the agenda very significantly, whereas in the last 25 years we've basically ignored it.
"That's why the formula was a strong one. We are approaching our last chance to get this turned around."
Extinction Rebellion has three core demands: for the government to "tell the truth about climate change"; to reduce carbon emissions to zero by 2025; and to create a citizens' assembly to oversee progress.
Controversially, the group is trying to get as many people arrested as possible.
Critics say they cause unnecessary disruption and waste police time when forces are already overstretched.