Glasgow 2014: Sir Chris Hoy feels Commonwealth 'momentum'
Last updated on .From the section Commonwealth Games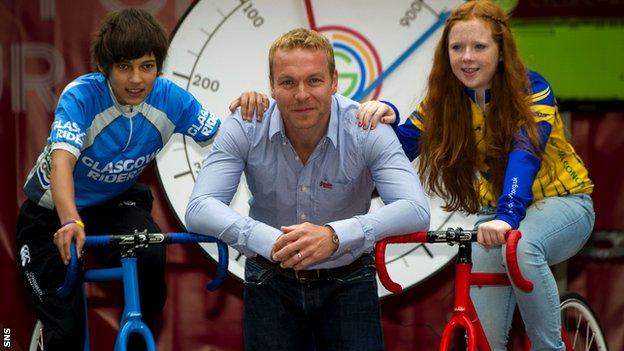 Six-time Olympic champion Sir Chris Hoy feels momentum has built towards the Commonwealth Games in Glasgow since last summer's London Olympics.
Hoy, an ambassador for the 2014 Games, was speaking at an event to mark one year to the opening ceremony.
"There's so much interest in sport just now, there's definitely this feeling of momentum since London," he said.
"Everybody can't believe it's only a year to go, time just flies by. We can't wait."
Hoy, who won Commonwealth gold in 2002 and 2006, urged Scottish people to watch the Games in numbers because, as well as the chance to watch top-class competition, home support would be a crucial asset for Scotland's athletes.
"There's possibly, hopefully, Usain Bolt, one of the biggest stars in the world of sport, here for the 100m," said Hoy.
"But there's also all the homegrown stars too. In Scotland, we're very excited because it's a chance for the young athletes to experience this home support and it's a unique experience.
"There's nothing like it, when you have that roar of the crowd and they're cheering you on. It's going to be an exciting time."
The Edinburgh-born cyclist admitted to a tinge of sadness he would not be competing at the Games after retiring in April.
"I would've loved to have competed here, there's absolutely no doubt of that," he said. "But it's more a question of whether you can physically do it or not.
"I could've been here to compete at a much lower level. Eventually, your body starts to wave the white flag and you don't recover from injuries as quickly, you aren't able to maintain the same output.
"It's one of these sports that, as soon as that starts to happen, it's very evident. I managed to hang on till the Games in London and perform well there.
"But I can actually just enjoy it from a different perspective now. It's a very pressurised environment when you're a competitor so to be able to just come here as a fan and enjoy it, it's going to be great."
The 37-year-old added: "It's known as the 'friendly' Games. It's fiercely competitive but it's also a lot of fun."