Glasgow 2014: Pregnant McConnell desperate to race
Last updated on .From the section Commonwealth Games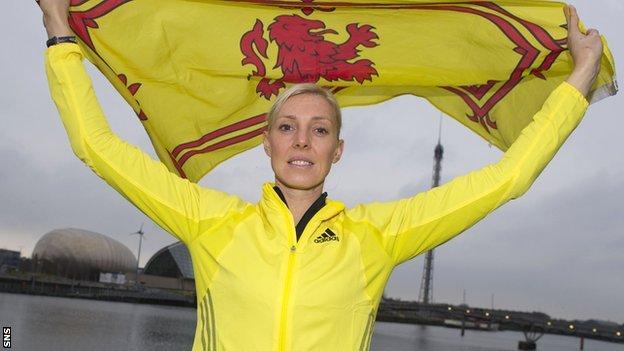 Double Commonwealth Games medallist Lee McConnell says she would not be attempting to compete so soon after having a baby if Glasgow had not been hosting the 2014 event,
McConnell told BBC Scotland's Sport Nation: "If it hadn't been in Glasgow, the motivation would have been lacking and I probably wouldn't have done it.
"But the fact it's in my home city with a Scottish crowd is the big driving force that makes me want to continue.
"I'd love to be part of Glasgow 2014."
McConnell, 34, and her partner, Craig Bonthron, are expecting their first child in November and she has a plan in place to train as long as she can before her due date and soon after the birth.
"It's an exciting time and a challenging time, but it's one we're really looking forward to embracing," she said of her and coach Roger Harkins' training regime.
"Normally in these months, I would be competing, but instead I'll go into a winter training block, which is what I would normally do come September-October time.
"We're going to be doing that during the summer.
"The plan is to continue to train through the pregnancy and hopefully go as far as possible.
"If I can be as fit as I can during the birth, [it boosts] the chances of me recovering quickly and getting back into training and gives me a better chance of competing at Glasgow 2014.
"My coach has done a lot of research into training while pregnant and looked at what we can do and we are adapting training.
"It's a plan that will probably change weekly and it's going to be difficult because pregnancies are such an individual thing. You don't know what will happen to the body week by week."
McConnell, who raced in the 400m and 4x400m relay at her third Olympics in London, won a 400m silver medal in Scotland colours at the Manchester Commonwealth Games in 2002 and a bronze medal in Melbourne four years later in the 400m hurdles.
She says she realises the scale of the task - to race for her country less than nine months after giving birth - but believes it can be done.
"I'm not daft, I know it's going to be an extremely big challenge," she said.
"I've accepted I'm not going to be on the track racing this year.
"I'm looking forward to the birth and getting back on the track after it.
"The bigger the bump gets, the more people may be inclined to say, 'why are you doing that?'
"But the specialists seem to think this is the best thing for me and for the baby."