Island Games 2013: Hazel Le Cornu gets Bill Custard award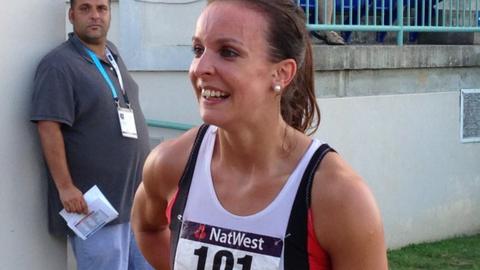 Runner Hazel Le Cornu has been honoured with the Bill Custard memorial award for her bravery and spirit at the 2013 Island Games in Bermuda.
The award is given after every Games to someone from the Jersey squad who has shown determination, sportsmanship or courage.
Moments after Le Cornu had she was told her dad had died.
She stayed to honour his memory and enable the relay team to compete.
They went on to clinch silver in the 4x400m relay and bronze in the 4x100m, with Le Cornu also taking silver in the 400m hurdles.
Jersey team managers overwhelmingly voted for her to receive the Bill Custard accolade, which was first awarded in 1993.
"The circumstances in Bermuda for Hazel were really, really difficult and she just dealt with it incredibly well," said team-mate Katie Silva, who collected the trophy on Le Cornu's behalf at a celebration and presentation evening.
"We were all just in awe of her strength and her determination to keep going and make her dad proud.
"The pull for her to go straight home would have been massive I'm sure, but she knew her dad would have wanted her to stay."
Le Cornu's success helped Jersey to third spot in the overall medals table, behind the Isle of Man and hosts Bermuda.
Swimming was a major success story for Jersey with 32 medals coming in the pool. Coach Nathan Jegou was given an award at Tuesday night's event to recognise his work with the squad.
Jersey's pistol team were also praised for their generosity, lending equipment to the Falklands, while the athletics squad got the Chairman's award for their performances on the track.
Jersey will host the next Island Games in 2015.