Commonwealth Games: Guernsey's Glenn Etheringon fears missing out on 2014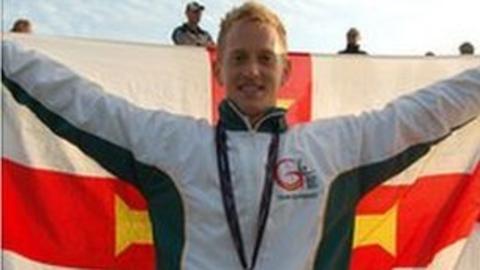 Sprinter Glenn Etherington could miss out on the Commonwealth Games next year because his Guernsey housing licence expires in September.
Etherington was second in the 200m at the South West Athletics Championships after clocking a time of 21.95 seconds.
Guernsey runs a system of housing licences to regulate how long people can live on the island.
"I'm trying to fight to get back to Guernsey but my licence is running out," he told BBC Radio Guernsey.
"There's a bid for me to still go but I have to speak to the Commonwealth Games Federation and see what they say."
The 27-year-old, who was not born in Guernsey, has moved to Exeter after finding work, but admitted he was worried that he would miss out on the chance of representing the island in Glasgow.
"It does put my chances of running for Guernsey at the Commonwealth Games in jeopardy which is a massive shame," added Etherington, who has run in Guernsey colours at the Island Games, winning silver in the 200m in 2013 and 110m hurdles gold in 2011.
"Guernsey is my home basically and it's definitely the home of my sport and athletics. I've come on leaps and bounds since I came to Guernsey."
Etherington's personal best time at the South West Athletics Championships was all the more remarkable as he was not even scheduled to run at the event until taking friend Tom Druce - who won the 200m final - to the stadium.
"Tom came down to stay with me because the championships were in Exeter," explained Etherington.
"I dropped him down there and the weather and the wind was perfect and I thought 'I wish I was running' - luckily one of the coaches from Exeter Harriers that I know very well was running things so I cheekily asked her if I could put in a late entry and she let me!
"I wasn't going to run because I had an abductor injury but I felt fine. I just ran the race hard along the bend and tried to hold on in the home straight.
"I didn't think the time was that quick when I crossed the line but then my new coach came and gave me a massive hug and said 'congratulations, it's a sub-22 run' so I was dead happy."
Druce was within 0.01 secs of his Guernsey record as he clocked 21.51 to win the 200m.