Commonwealth Games: First of Scotland team announced
Last updated on .From the section Commonwealth Games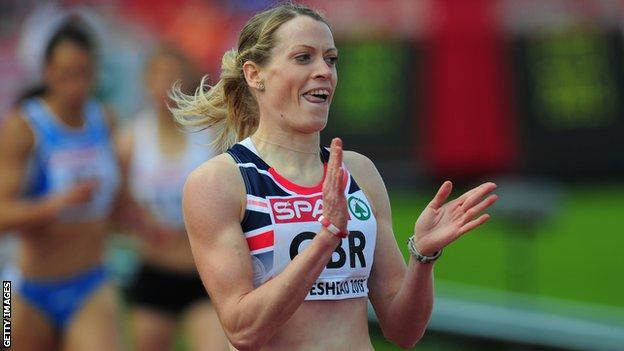 Eilidh Child, Eilish McColgan and Chris O'Hare are among the first 27 athletes to be selected for Scotland's 2014 Commonwealth Games team.
With 300 days to go before the Games open in Glasgow, 23 track and field competitors were named, along with four squash players.
Alan Clyne, from Inverness, will compete in all three squash events.
Scotland's women have also had their 4x400m relay place confirmed, with the squad to be named next year.
"We have witnessed some amazing performances from athletes this summer striving to secure their places to represent Team Scotland at our home Games next year," said Jon Doig, Team Scotland's chef de mission.
"Congratulations to each and every one of them and they can now go into their winter training period fully focused on reaching their peak performance next July in front of a fired-up home crowd.
"I am confident that over the next nine months they will be joined by a record number of fellow Scots, as we aim to have our largest and most successful team ever at Glasgow 2014."
Child, 26, won a 2010 Commonwealth silver medal in the 400m hurdles in Delhi and has enjoyed a good season, finishing fifth at the World Championships and second at the European Indoor Championships.
Steeplechaser McColgan, who was 10th in the World Championships final in Moscow, will be one of 19 athletes making their Games' debut.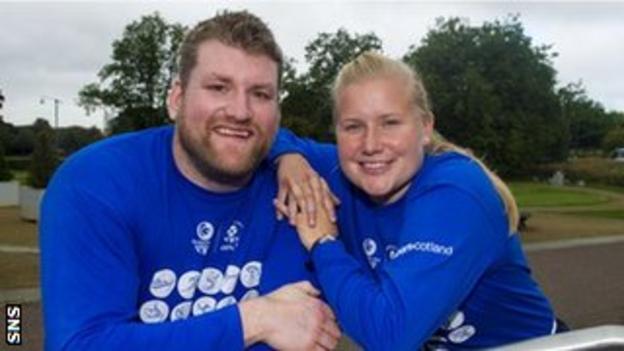 Edinburgh's O'Hare, 22, was another Scot who impressed in Russia, reaching the 1500m final.
Scotland's 800m champion Guy Learmonth is the only other male track representative announced.
Laura Muir, 20, will run in the 800m, having made the semi-finals with a personal best of 2:00:80 in Moscow this year after her European U23s bronze medal.
Steph Twell, a 2010 bronze medallist, has continued her recovery from serious injury to secure a place in the 5000m and will be joined by Laura Whittle.
Marathon runners Susan Partridge and Derek Hawkins posted the required times back in April at the London Marathon.
And Mark Dry, who heads the Commonwealth rankings, is one of three hammer throwers listed.
The para-sport events will be fully integrated into the Commonwealth Games.
Paralympic silver medallist Libby Clegg will compete in the T12 100m at Hampden, and 20-year-old wheelchair athlete Meggan Dawson-Farrell from Alloa and Samantha Kinghorn from Kelso will race in the T54 1500m.
At 17, Kinghorn is the youngest athlete to be selected so far.
Next year's team will be the largest assembled by Scotland, while the Scots' most successful Games were in Melbourne in 2006 when the team won 29 medals (11 gold, 7 silver and 11 bronze).
ATHLETICS:
Susan Partridge, Marathon
Derek Hawkins, Marathon
Libby Clegg, T12 100m
Eilidh Child, 400m Hurdles
Guy Learmonth, 800m
Chris O'Hare, 1500m
Laura Muir, 1500m
Meggan Dawson-Farrell, T54 1500m
Samantha Kinghorn, T54 1500m
Eilish McColgan, 3000m Steeplechase
Laura Whittle, 5000m
Stephanie Twell, 5000m
Mark Dry, Hammer
Andrew Frost, Hammer
Susan McKelvie, Hammer
Nicholas Percy, Discus
Allan Smith, High Jump
David Smith, High Jump
Jayne Nisbet, High Jump
Emma Nuttall, High Jump
Jade Nimmo, Long Jump
Sarah Warnock, Long Jump
Jax Thoirs, Pole Vault
SQUASH:
Alan Clyne, Men's Singles, Men's Doubles, Mixed Doubles
Harry Leitch, Men's Doubles
Frania Gillen-Buchert, Women's Doubles, Mixed Doubles
Alexandra Clark, Women's Doubles, Mixed Doubles