Commonwealth Games: Shooters & triathlete join Scotland team
By Jane Lewis
BBC Scotland Commonwealth Games reporter
Last updated on .From the section Commonwealth Games
Eight shooters and one triathlete have been named in the Scotland team for the Glasgow 2014 Commonwealth Games, bringing the total to 36.
The next tranche of athletes will be named in the spring.
Jonathan Hammond and Jennifer McIntosh are included and will be aiming to add to the seven medals they won between them at the Delhi Games in 2010.
David McNamee makes the team, a reward for strong finishes in the Triathlon ITU World Championship Series.
The sport will feature in the Commonwealth Games programme for a third time, having first been included in Manchester in 2002, then in Melbourne four years later.
At Strathclyde Country Park for the Glasgow Games, a new mixed team relay event will follow the individual men's and women's races, which are the first medal events of the Games on day one.
McNamee, from Irvine, has posted three top-10 finishes in the Triathlon ITU World Championship Series this year.
He now trains in Leeds as part of the GB programme with top triathletes the Brownlee brothers, who look likely to be wearing England vests next July.
"My last four years have been focused on reaching the Commonwealth Games and now to finally be selected is so exciting," he said.
"I have never represented Scotland before and the fact it's in Scotland makes it 10 times more important.
"I picked up my first ever senior triathlon medal at a European Cup event at Strathclyde Park so I've fond memories competing there.
"To have everyone cheering your name gives you such a mental boost, even though in triathlon you're not really fully aware of it until the run."
In shooting, double Commonwealth gold medallist McIntosh had her best World Cup placing with the air rifle this year, finishing 18th in Munich.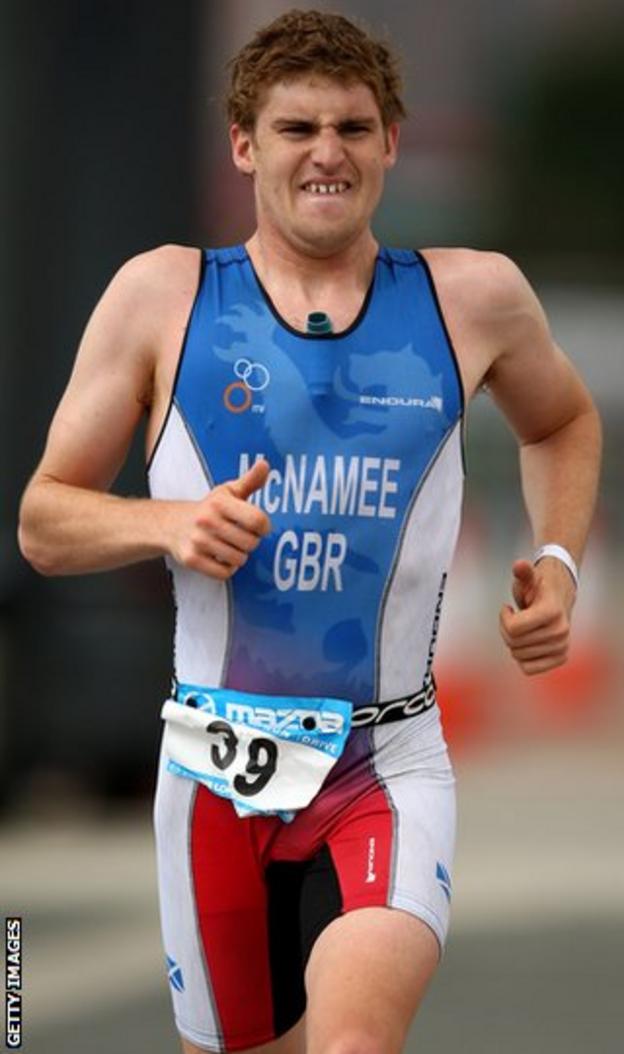 Last year she made her first World Cup final, taking 6th in the 50m rifle three-position event, also in Munich, in her first year as a senior.
McIntosh, who is now a full-time athlete, told BBC Scotland: "I think it is going to be absolutely fantastic. I'm not going to get an opportunity like this again in my lifetime.
"It's just amazing, I'm so excited about it. It's good that it's happened this early so I can focus on getting ready for Glasgow.
"I'm really looking forward to a home crowd. I really thrive on that atmosphere."
The rifle shooter added: "The goal wasn't 'make the team'; the goal was 'go to Glasgow and perform'. Making the team is just a stepping stone to achieving that goal."
And McIntosh's Scotland team-mate Sian Bruce said she was delighted to compete in a Commonwealth Games for the first time.
"It's going to be different," said the Dundonian skeet shooter, whose interest in the sport stemmed from her father.
"I've never really had home support before. I've only ever competed abroad with the team, so it's going to be amazing."
Bruce hopes to gain access to the new Barry Buddon Shooting Centre in Carnoustie once it has been completed.
"We'll get in and get one up on everyone else," she joked.
Hammond, originally from Aberdeen and now based in West Virginia, said: "Now I am selected I can begin all the planning for the winter and next season in the lead-up to Glasgow.
"Some of the new rules in our sport may alter how I prepare for the Games, but the biggest rules change of starting the scores from zero for the finals has really created a lot of equality and I think gives many more people the chance of winning a medal.
"All I can focus on is having the best performance possible and see what happens."
and there will now be a break over the winter before more names are added.
The selection period for athletes opened on 1 April this year and closes on 15 May 2014.
SHOOTING:
Jonathan Hammond, Small Bore Rifle - 50m Rifle 3P (Aberdeen/West Virginia, USA)
Neil Stirton, Small Bore Rifle - 50m Rifle Prone (Aberdeen)
Jennifer McIntosh, Small Bore Rifle - 10m Air Rifle & 50m Rifle 3P (Falkirk / Edinburgh)
Caroline Brownlie, Pistol - 10m Air Pistol (Edinburgh/Bishops Waltham, Hampshire)
Shona Marshall, Clay Target - Trap (Alford, Aberdeenshire)
Sian Bruce, Clay Target - Skeet (Dundee)
Angus McLeod, Full Bore Rifle - Queen's Prize Individual & Pairs (Edinburgh/Warminster)
Ian Shaw, Full Bore Rifle - Queen's Prize Individual & Pairs (Epsom, Surrey)
TRIATHLON:
David McNamee, Individual Standard Race, (Irvine/Leeds)