Singapore table tennis team are the ones to watch in Glasgow
By Graham Fraser
BBC Scotland
Last updated on .From the section Commonwealth Games
Bolt. Ennis-Hill. Daley. Jamieson. Just some of the big names fans all over the Commonwealth are looking forward to seeing in Glasgow.
For table tennis aficionados, the ones to watch wear the colours of Singapore.
At the Delhi games in 2010, Singapore won six out of seven possible gold medals. The city state has dominated the medals table since Manchester in 2002, and is now preparing to maintain its grip next summer.
The Queen's Baton Relay is currently on its way around the 70 nations and territories of the Commonwealth as part of the build-up to the Games.
When the baton was in Singapore, BBC presenter Mark Beaumont, who is following its journey, met one of the country's rising stars.
Isabelle Li, 20, is ranked fifth in Singapore and 235th in the world. With her country planning on sending five female players to Scotland, Li is fighting hard for her shot at glory.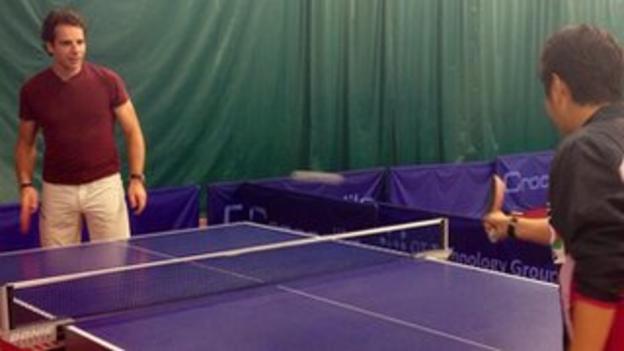 She said: "There is some pressure because my team is very strong. I think it is more of a motivation and inspiration knowing that I play alongside very strong team-mates.
"We train about six to seven times a week, depending on when the competitions are coming, for about seven hours a day."
The four Singaporean women ranked above Li are in the world's top 100, with Tianwei Feng, the current Commonwealth champion and Olympic bronze medallist, highest in fourth position.
Li knows she has a long way to go before she reaches the top echelons of her sport, an area dominated by Chinese athletes.
She added: "I am very clear about where I want to end up.
"I just enjoy the process of becoming a better player and to keep on improving. I want to learn from every player."
Isabelle will find out if she is chosen to represent her country next year. One of those who will have a major say on that decision is Jing Jun Hong, the national female coach of Singapore.
Hong won two gold medals and two bronze medals at Manchester in 2002.
Asked about Singapore's secret to success, she said: "We have strong government support and good leadership from the STTA (Singapore Table Tennis Association).
"The management make a long-term strategy. That is why we still can continue and be successful at the Commonwealth Games. Of course, our players are working hard and training hard."
Mark Beaumont is reporting for the BBC on the Queen's Baton Relay around the Commonwealth ahead of the Games in Glasgow in 2014. You can follow his progress on the Queen's Baton Relay blog.