Brunei's history-maker Maziah Mahusin targets Glasgow 2014
By Graham Fraser
BBC Scotland
Last updated on .From the section Commonwealth Games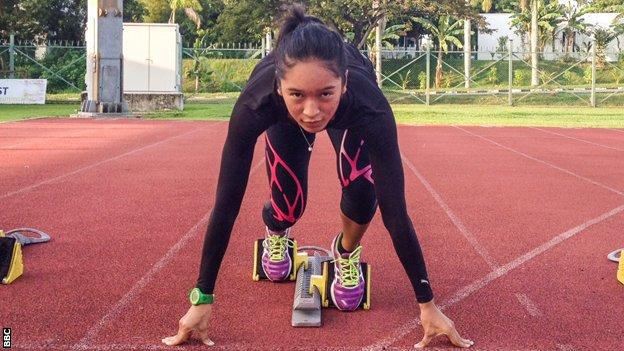 On a wet Friday last August, Maziah Mahusin stood in the cold London air.
The teenager was very nervous, surrounded by the sight and sound of thousands of cheering athletics fans. It was the Olympic Games, and Mahusin was on the brink of achieving a sporting first.
The 400m runner was preparing for her moment in the Olympic Stadium. When her race started, she would become the first female Olympian ever from the tiny, oil-rich nation of Brunei Darussalam.
The pressure was on.
As she stood on the line with some of the best runners in the world, including Jamaica's World Championship bronze medallist Novlene Williams-Mills, doubts entered Mahusin's mind.
She wanted to leave this glaring spotlight. She didn't want to race. She wanted to give up.
"I wanted to pass out," recalled the 20-year-old. "I could feel my heart pumping really quick.
"I was thinking about giving up at the starting block. I was about to plan doing a false start. I didn't think I could do it - the pressure, the massive crowd watching you.
"When they said 'on your marks', that was the time I felt 'this is it'. There was no turning back. This was one time in my life, so I just went with it.'
"I ran fast, I thought about my family, I thought about the whole of Brunei that supported me. I just did it. I didn't care about my other opponents. I just ran until the finishing line."
Mahusin finished second last in the race with a time of 59.28 seconds, nine seconds behind the winner Williams-Mills.
But none of that mattered. She had done it. She had achieved an Olympic first, and she had also set a new personal best and Bruneian national record.
"That is the moment I will never forget," she added. "For me, that is my gold medal - to participate at the Olympic Games."
The achievement for Mahusin is all the more rewarding when you consider she has run with an injury for more than three years.
Until the Youth Olympics in 2010, Mahusin was a 400m hurdler. While training for that event, she seriously injured the tendon in her right ankle. It has never fully recovered.
Just over a year has passed since the Olympics and it is unclear if Mahusin's appearance in London has had any legacy for female athletics in Brunei.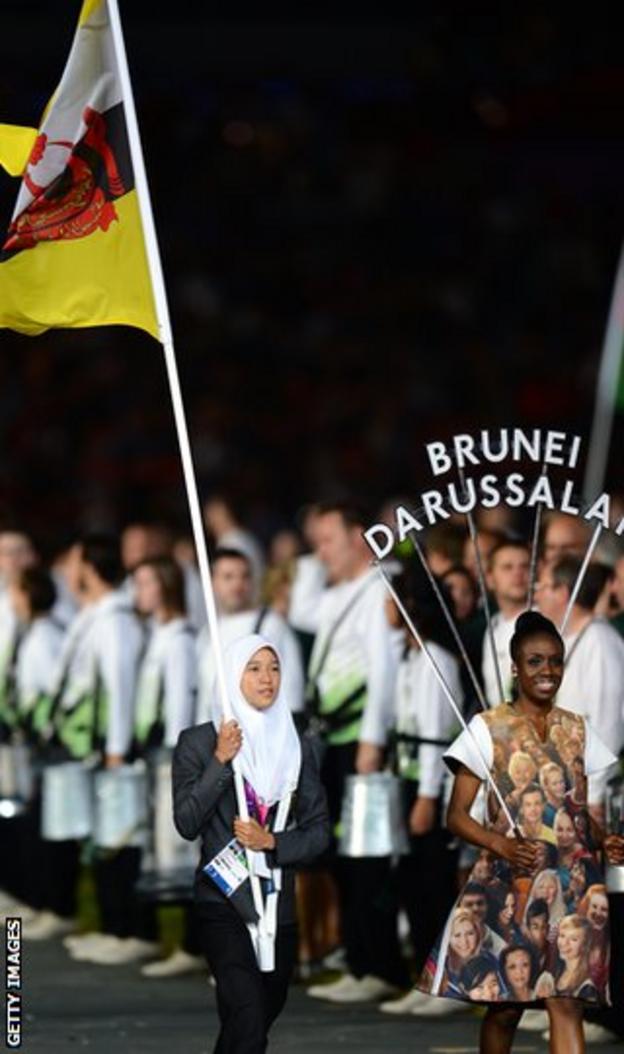 However, the athlete herself has noticed a difference. She is used to training with men but she has been joined regularly on the track in recent months by half a dozen girls aged 15 and 16 with some hoping to represent Brunei at next year's Youth Olympics in China.
But there is a long way to go for female sport in Brunei. For many, achieving a good education is far more important than nurturing any sporting prowess.
Dedication, transport issues, funding equipment and a lack of any support network are all cited by Mahusin as problems facing young girls.
She said: "Some of the parents won't allow [girls] to do sport. They want them to study. That is the problem with young athletes in Brunei.
"I can manage to do both - study and sports. They easily give up. They don't have the confidence and the spirit to continue."
This attitude even applies to Mahusin's own family. Even though she competed for Brunei at hockey aged 14 and for her country at the Youth Olympics in the hurdles, her parents only accepted her talents following the Olympics.
She said: "It is really common in Brunei to say 'sport cannot give you a future'.
"Before the Olympics I didn't see a lot of people on the track or the road. After the Olympics, the roads are almost crowded with people running.
"The feedback I got after the Olympics really shocked me.
"Young people in Brunei say I inspired them a lot. They have started running because of me. They want to be like me. I am proud that I have managed to inspire young athletes.
"When I go to the shopping mall, people want to take a picture of me and they say they are really proud of me even though I didn't win anything."
Mahusin now looks forward to continuing her athletics career, even though she knows she will never be able to earn a living from it.
When she is not on the track, she studies computing in her home town of Bandar Seri Begawan with the hope of becoming a computer programmer.
Mahusin is currently preparing to represent her nation at next year's Commonwealth Games in Glasgow.
If she does, she will be the first female, with the exception of the lawn bowls team, to compete for Brunei since the 1994 event in Victoria, Canada.
Mahusin recently took a break from training to take part in the Queen's Baton Relay. The baton, which contains a message from the Queen, is currently travelling around the 70 nations and territories of the Commonwealth as part of the build-up to the Games.
BBC presenter Mark Beaumont is following the baton on its journey and interviewed Mahusin for a documentary series to be shown later this year.
She qualified for the Olympics on the principle of universality, which allows competitors in smaller nations to take part even if they don't make the qualifying time.
She has been earmarked to once again compete for Brunei at the Glasgow Games and will find out for sure next year if she has qualified.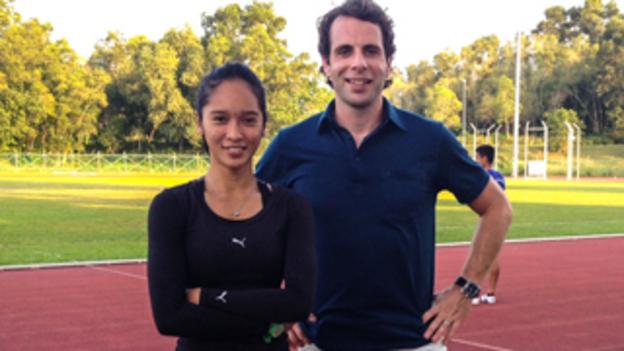 Mahusin currently runs 400m around the 57-second mark in training, seven seconds slower than Amantle Montsho's gold medal-winning time in the 400m race in Delhi.
But that hasn't tempered her ambitions. Training for around five hours a day, she dreams of winning a medal in front of a Scottish crowd next year.
"If I qualify, it means I have a chance. I just have to focus and train hard," she said.
"I will be really proud of myself. I have already become the first female athlete [from Brunei] at the Olympics. I didn't give up."
If Mahusin does make it to Glasgow, one thing is for sure. She will have no doubts on the starting line this time. She will just want to create a little more sporting history.