Scottish weightlifters in awe of Commonwealth Games venue
By Jane Lewis
BBC Scotland Commonwealth Games reporter
Last updated on .From the section Commonwealth Games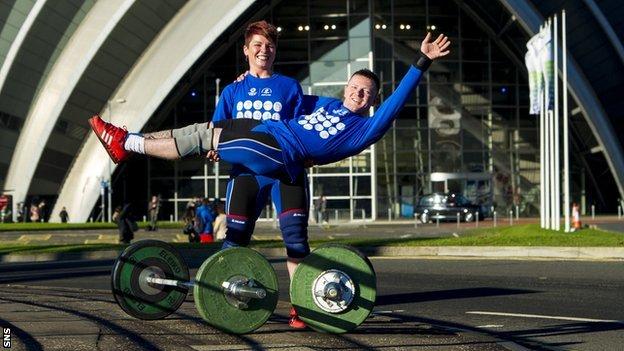 Kilmarnock weightlifting duo Georgina Black and Craig Carfray admitted to being taken aback at the scale of their sport's Commonwealth Games venue.
Black, 23, and Carfray, 21, hope to make the Scotland team to compete in the snatch and clean-and-jerk events at the Clyde Auditorium next summer.
"It was amazing to see how big the venue is - 3,000 people," said Black.
And Carfray added: "You don't realise how big it is until you're up on that stage. It's massive."
The Ayrshireman acknowledged that the prospect of performing in front of a packed arena made his pulse quicken.
"I did feel a bit nervous even being in there," he told BBC Scotland.
"But with most of the tickets being snapped up by Scots coming to watch Scots, it's good for the support.
"You're going to want to win more, with everybody getting behind you. I think it will give you that extra push to go for a medal.
"I'm trying to keep my mind on qualifying.
"You've just got to take it step by step."
Carfray holds the Scottish record in his chosen disciplines for his weight category, 69kg. He has lifted 112kg in the snatch and more than twice his body weight in the clean and jerk - 141kg.
He and Black are part of the Scotland training squads that gather almost every month at Shortlees Community Centre in Kilmarnock.
There they try to hone their technique ahead of the Games, which Black believes will be the biggest moment of her life.
"I don't think there's anything much that could match that. It's coming really fast," she said.
"We've only got three competitions this year and three comps next year to qualify and hopefully we'll be selected in March.
"It's going to be some change from Kilmarnock."
Black was in Delhi at the last Commonwealth Games as part of Achieve 2014, which gave promising athletes behind-the-scenes access at a multi-sport tournament.
It also meant she was there to see Peter Kirkbride, another product of Kilmarnock Weightlifting Club, win silver in the 94kg category.
She said: "Watching Peter pick up his medal made it possible that me and Craig could do this, that other people could do the same.
"We'll hopefully be there in 2014.
"It helped seeing multiple sports. Seeing lots of different athletes compete, the dedication and commitment, was unreal. It definitely prepared us for next year."
Black says she snatches 82kg in competition but hopes to improve on that for the Games, while for the clean and jerk her best is 103kg. Those are Scottish records, both for under-23s and seniors.
Her sport is one of only a handful that did not sell out in the initial stages of the ticket sales process, but may well do so before the tournament begins.
"Weightlifting isn't as well-known as track events but hopefully it will be sold out - friends and family, Scotland, Glasgow, everybody backing you would be amazing," she said.