Brunei athlete Maziah Mahusin wants to 'make history again'
By Joel Hammer
BBC Sport World Service
Last updated on .From the section Commonwealth Games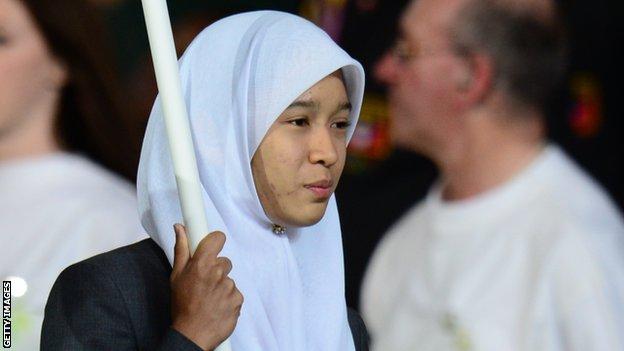 Brunei athlete Maziah Mahusin says she is seeking to make history for a second time by winning a medal for her nation at next year's Commonwealth Games.
The 19-year-old became Brunei's first-ever female athlete at an Olympic Games when she competed at London 2012.
Now Mahusin is targeting success in the women's 400m in Glasgow - but first she will have to qualify.
"I really need to win a medal. For me, for my family and for Brunei," she told BBC World Service's Sportshour.
She added: "It really is my dream to complete that goal."
Brunei, a tiny state on the north coast of the island of Borneo in South East Asia, has never won a medal since its athletes started competing at the Commonwealth Games in 1990.
Mahusin will have to run the qualification time of 52.40 seconds just to get to Glasgow and admits she has some way to go: "I have to train with the male athletes because I don't have a female running partner.
"It's really hard for me, we have different speeds and they are much stronger. Sometimes the coach says I have to follow behind them and it's really tiring."
Mahusin is also combining being a full-time student with her training.
"I don't think I'm ready yet, the qualifying time is far [off]. I don't know what will happen, I will just have to train really hard for it," she admitted.
Mahusin only qualified for last year's Olympic Games under the International Olympic Committee's "universality" rules, set up to ensure athletes and nations that may otherwise miss out are given a chance to compete.
"I didn't really expect to go to the Olympics and I was really honoured to represent Brunei, especially for being the first female athlete. It was really a dream come true," she said.
Mahusin carried her nation's flag at the opening ceremony and then broke a national record on the track - though she came sixth in her first-round heat at the Olympic Stadium.
"It's really different to compete with a huge crowd watching you and cheering you. It's good for my performance," she said.
You can listen to the full interview with Maziah Mahusin on this week's Sportshour programme from BBC World Service.