Commonwealth Games: Scots Sevens drawn with New Zealand
Last updated on .From the section Commonwealth Games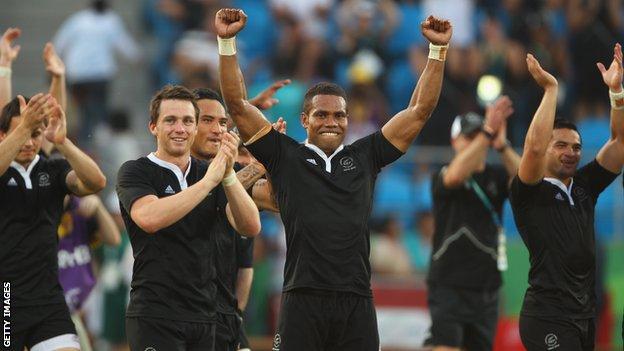 Defending champions New Zealand will be in the same group as Scotland for the Rugby Sevens at the Commonwealth Games.
Canada and Nigeria make up Pool A, with all of the tournament matches being played at Rangers' Ibrox Stadium on 26 and 27 July.
England will meet Australia in Pool D, while Wales are up against Samoa Papua New Guinea and Malaysia.
The top two sides from the four groups in Glasgow will go on to compete in the quarter finals.
New Zealand are number one in the IRB sevens rankings and have finished with gold medals at all four Commonwealth Games to feature the sport.
They beat Australia in the 2010 final, with South Africa collecting bronze.
"New Zealand have set a high standard in the Commonwealth Games winning the gold in every tournament and doing so unbeaten," said Scotland coach Stephen Gemmell.
"Canada we know well and have had some close games with in recent years so that will be a key game in terms of where we finish in the pool, and finally Nigeria, will be a typical African sevens team with lots of power and pace.
"Looking at the teams that have been announced and hearing about the number of spectators that will be in Ibrox, it's clear it's going to be a wonderful event to be a part of and we will be doing everything we can to make the country proud in July."
Commonwealth Games Rugby Sevens 2014
Pool A: New Zealand, Canada, Scotland, Nigeria
Pool B: South Africa, Kenya, Cook Islands, Trinidad and Tobago
Pool C: Samoa, Wales, Papua New Guinea, Malaysia
Pool D: England, Australia, Sri Lanka, Uganda