Scottish Thistles grow stronger in stern Silver Ferns test

By Keir Murray
BBC Sport Scotland
Last updated on .From the section Commonwealth Games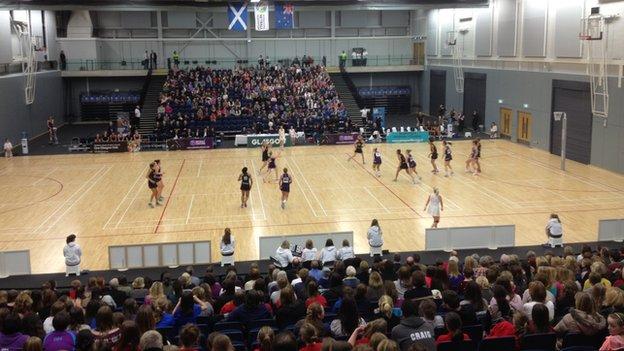 An improved Scottish Thistles side gave the Silver Ferns a better match in their second exhibition game in Glasgow on Tuesday evening.
The New Zealanders won 63-26, the points difference not as great as Sunday's 72-18 victory.
Indeed, the Scots trailed by only 13 points at half-time against a team 10 places above them in the world rankings.
But the Commonwealth champions in 2006 and 2010 again showed their prowess.
Their speed around the court and their eye for a gap around the shooting circle, combined with accuracy with goal attempts, makes them a formidable force.
Waimarama Taumaunu now takes her squad to London to taken on England and Jamaica, who are ranked just behind the Kiwis in third and fourth in the world.
Thistles coach Gail Parata told BBC Scotland after Sunday's match that she wanted her players to be more ruthless at the net and, in the first quarter especially, that was the case.
They trailed 14-7 after the first 15 minutes but in that time Scotland, whether less over-awed or employing a more positive approach compared to the first game, rattled the Silver Ferns by playing more aggressively and converting a higher ratio of chances.
The third quarter was the Thistles' weakest as they scored only three points to the Silver Ferns' 16 to take it to 44-18, but, as on Sunday, the home team scored eight goals in the final 15 minutes.
Samantha Murphy and Fiona Moore took it in turns to play centre, Lynsey Gallagher, skipper Lesley MacDonald and June McNeill provided the goal threat and Karin Connell and Beverly Campbell were among those combating on the wings.
But one Scottish player stood out across the two matches and was voted home player of the series.
Goal keeper Hayley Mulheron was tested to the limit by four of the best players she is ever likely to face and it is no contradiction that the prize for best Silver Fern in the two games was goal shooter Cathrine Latu.
Mulheron has won more than 60 Scotland caps and she had to use all her experience to limit the scoring of 41-year-old Irene van Dyk, the sport's most capped player, and her team-mates Latu, Maria Tutaia and Jodi Brown.
Few could argue she deserved a rest when she was replaced with Gemma Sole.
A bruised Mulheron, 27, told BBC Scotland: "We learned from Sunday's game.
"We had a look at the videos with the coaches and management team and on our own. We improved, so we're quite happy with that.
"The first quarter we were going out to get them, we were going hard. We were working quarter by quarter, point by point. Keep fighting until the end."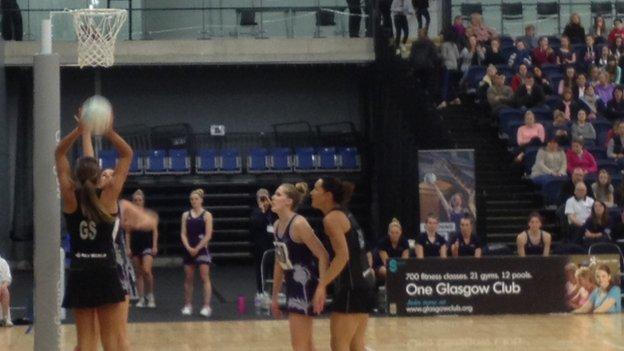 For Mulheron, who gave up a career in the police for a civil service job that could accommodate her sporting ambitions, the matches underlined why she commits so much to netball.
"This is why I do this," she explained. "I do it for the love of the game, the love of the team.
"But they are the best players in the world and it's really good to see how I match up to them.
"I felt like I gave it my all and that's the only way to do it.
"They have one of the best shooters in the world and she has been for a long time. She has years of experience.
"They are playing week in, week out. They have international matches all the time. They are paid full-time and we are trying to do this while working full-time as well."
Although netball is essentially a non-contact sport, collisions do occur and, at one point, Mulheron and Van Dyk crashed to the floor as they collided when competing for possession.
"Netball is getting more physical," said the Glaswegian, in her 10th year as an international.
"That's why we are in the gym three times a week doing strength and conditioning to get stronger, bigger bodies to take to the court.
"We are putting so much pressure on our knees. Working in the gym takes the pressure off the knees."
The Silver Ferns will play the Thistles again in July when they return to Glasgow to defend their Commonwealth title.
For Mulheron, the Kiwis set the standard that Parata and the squad will strive to match.
"It shows where we are just now and obviously we are going to work on it and make it better and narrow that scoreline," she added.
"We've got some tournaments next month and then again in March and it will give us an outline of where we want to go for the Commonwealth Games."
Scottish Thistles squad: Hayley Mulheron, Rachel Forbes, Lindsay Meighan, Claire Brownie, Fiona Moore, Samantha Murphy, Karin Connell, Gail Higgins, Beverly Campbell, June McNeill, Lynsey Gallagher, Gemma Sole, Rachel Holmes, Lesley MacDonald.