Commonwealth Games: Holl seeks 10-year legacy funding
Last updated on .From the section Commonwealth Games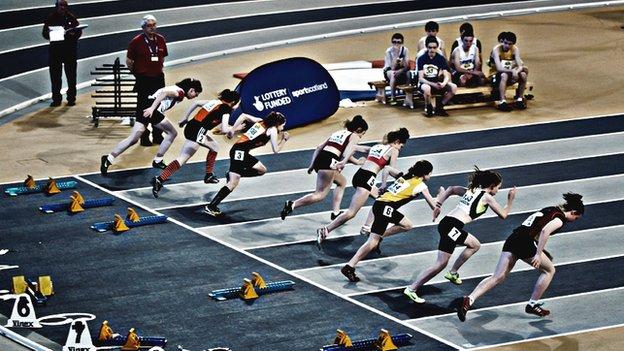 This summer's Commonwealth Games must be the catalyst for legacy activity for the next decade, argues Nigel Holl, chief executive of Scottish athletics.
Earlier this week Holl addressed the Scottish Parliament's Committee for Health and Sport.
He feels Holyrood policies can have a major bearing on sporting activity.
"Policy decisions across the Government portfolios have direct impacts in the long term on sport, activity levels and opportunities," he said.
Glasgow's Emirates Arena will host the National Indoor Open on Saturday, where 700 athletes will compete, ranging from under-14 competitors to those who will represent Team Scotland at the Games.
About 300 more athletes are taking part in the event this year compared to the 2012 meeting at the Kelvin Hall and Holl wants to see a broad approach from agencies and governing bodies to harness the excitement that Glasgow 2014 will generate.
"In comparison to England, we have tremendous opportunities to influence and be listened to by politicians and parliament here in Scotland," he said.
"I have experience of working for governing bodies in England, and access and contact with parliamentary bodies, ministers, MPs etc is extremely limited.
"In contrast, here in Scotland, with a Minister for the Commonwealth Games, Sport and Equality (Shona Robison), contact is fairly regular and often in an open discussion-type environment. It's very positive."
On Tuesday Holl took part in a round-table discussion with the committee members plus representatives of Scottish Disability Sport, Winning Scotland Foundation, Volunteer Scotland, The Equality Network, VOCAL (Sport & Leisure Managers Association), Scottish Sports Association, NHS Health Scotland, and the Robertson Trust.
He continued: "It was a chance to discuss and stress the importance of strong, well-connected clubs and jogging groups in local communities - and how they can and do impact on the physical health of communities by offering sporting and physical activity opportunities for young and old alike, and to stress that sport and health doesn't sit in isolation.
"And there was an opportunity to say how, if 'legacy' from the Commonwealth Games is really to be achieved, then funding and commitment is needed for the next 10 years after the Games.
"As a catalyst, in my opinion it has already achieved significant outcome. But I think we should be looking to use that catalyst for the next 10 years, and I want the government and public sector agencies to support our clubs, and Scottish athletics, in that endeavour."