Glasgow 2014: Guernsey's Kylie Robilliard chases Games dream
Last updated on .From the section Commonwealth Games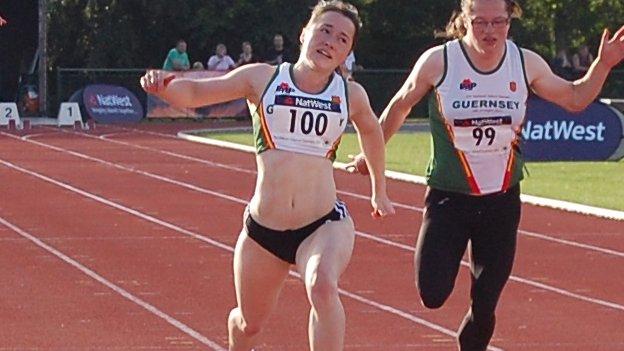 Sprinter and hurdler Kylie Robilliard says her whole year is "completely focused" on competing at the Commonwealth Games in Glasgow.
The 25-year-old ran at the Games in 2010 and has set her sights on making the final in the 100m hurdles.
Robilliard has already run the Guernsey qualifying standard nine times.
"The qualifying selection standard is good, but I want to be a long way beyond it so I can be competitive at the Games," she told BBC Guernsey.
Robilliard, who narrowly missed out on a place in the Commonwealth final in Delhi in 2010 as she finished just 0.11 seconds off the pace, suffered glandular fever last year, but has bounced back strongly.
"2013 was tough, but I didn't put too much pressure on myself to do too much.
"I just wanted to run the season and see how things panned out, but I was very, very happy with my progress. I've qualified nine times now which is a bit greedy, but at least I know I can work on that further.
Robilliard has moved to Loughborough to be closer to the training facilities available there, and is working part-time in order to fund her dream of racing at the top level.
"My whole year is completely focused on the Commonwealth Games - in every aspect," she added.
"I work 20 hours a week at the RNIB [Royal National Institute for the Blind] as a support worker for special needs young adults helping them with their independent living skills and that's just enough to pay my rent.
"I don't have sponsorship so I do have to go out and earn some pennies."