Glasgow 2014: Kim Collins eyes return for St Kitts and Nevis
By Jane Lewis
BBC Scotland
Last updated on .From the section Commonwealth Games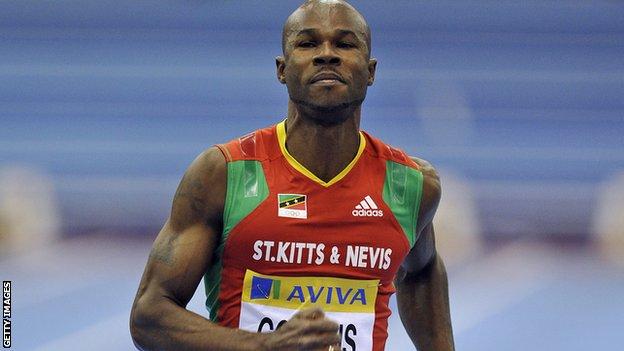 Veteran sprinter Kim Collins has indicated that he is likely to perform a U-turn and run for St Kitts and Nevis once again at the Commonwealth Games.
The 2002 Commonwealth 100m champion will be 38 when Glasgow hosts the Games in July and August.
Collins was dropped from the London Olympics after a fall-out over visiting his wife in a hotel and said he would never again represent his country.
But he says his fans have persuaded him to change his mind.
"The fans have stepped up and said 'hey, we want to see you'," said Collins, who is in Glasgow to captain a Commonwealth Select Team at Saturday's International Match at the Emirates Arena.
"I have to acknowledge that because these are the people who make things happen in track and field.
"Based on that, I'm thinking that I really should return and one of the big things is that there is not really a big replacement; nobody has really stepped up to carry things on.
"We have a new executive now, a lot of people have moved on and you have to learn how to forgive.
"I'm hoping we can sit down and talk and move on from there.
"I don't want to jump the gun and say yes to running at the Commonwealth Games, but deep down I'm thinking it's more possible now."
Collins has raced in two Olympic 100m finals, with victory in the 2003 World Championships his biggest triumph, while he won a world bronze as recently as 2011.
On Saturday, the Commonwealth Select will compete with Great Britain and Northern Ireland, Scotland and the United States.
Collins, making his fourth successive appearance at the Glasgow indoor meeting, will line up in the 150m and is in confident mood.
"I think I have an excellent chance of winning, I don't see why not," he said. "Training has gone very well and I never fear the competition.
"It's a big honour to be captain. The team hasn't won in a while and we really need to get back to being the champion team once more."