Commonwealth Games: Tickets boost for Glasgow 2014 netball
Last updated on .From the section Commonwealth Games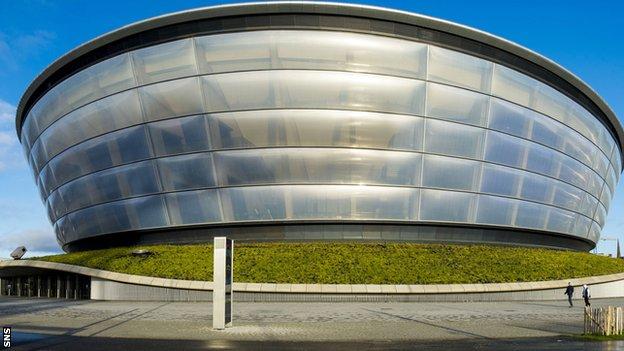 Extra tickets will be made available for the Glasgow Commonwealth Games after the netball venue was switched.
Early rounds of the netball will still be played at the Scottish Exhibition and Conference Centre, but the final will now be played at the nearby Hydro.
The boxing finals will also take place at the Hydro the preceding evening, requiring a 12-hour venue turnaround.
The Hydro has capacity to hold an additional 4,000 people, making the switch more viable for attendees.
The final of the Commonwealth Games netball was one of the first sports to be sold out when tickets went on sale in November and the organisers of Glasgow 2014 carried out tests to explore the feasibility of switching the final from the SECC to the Hydro, which is a neighbouring venue.
The organisers are now investigating exactly how many extra tickets will be made available for the netball final, and are discussing how they can be sold to the public.
Intensive testing involved a team of 80 people working to remove the boxing ring, floor seating and signage, in addition to laying the netball floor, then installing goal posts and reconfiguring the surroundings in a constrained timeframe.
Rehearsals for medal ceremonies, the athlete walkthrough and simulated mixed zones for media were also carried out to determine timings.
The change in venue will now see a netball floor laid overnight after the final boxing event finishes at 2200 on Saturday 2 August and the full turnaround of the venue will be complete for netball medal matches starting at 1000 on Sunday 3 August.
Both the bronze medal and gold medal netball matches will then be played at the SSE Hydro with earlier matches in the competition remaining in the SECC.
The netball finals take place on the closing day of the Games and be among the last medals to be awarded at Glasgow 2014.
The decision to relocate the Netball finals from the SECC to the Hydro was announced during the Chef de Missions Seminar - a briefing for team chiefs from all 70 competing Commonwealth nations and territories - which is taking place in Glasgow this week.
David Grevemberg, Glasgow 2014 Chief Executive, said: "The Commonwealth Games is a high point of the international netball calendar and it is pleasing that the culmination of this world-class competition will be played out in front of an even larger crowd.
"Hosting the Finals at the SSE Hydro promises to deliver a fantastic atmosphere for the world's greatest Netball athletes in one of Europe's newest, most exciting venues.
"We have been rigorous in our testing of the transition time required between boxing and netball and we are confident, working with the International Netball Federation, of delivering an outstanding Finals day for our Commonwealth athletes in front of packed crowds."