Glasgow 2014: Namibian Dan Craven relishes 'home' Games
By Graham Fraser
BBC Scotland
Last updated on .From the section Commonwealth Games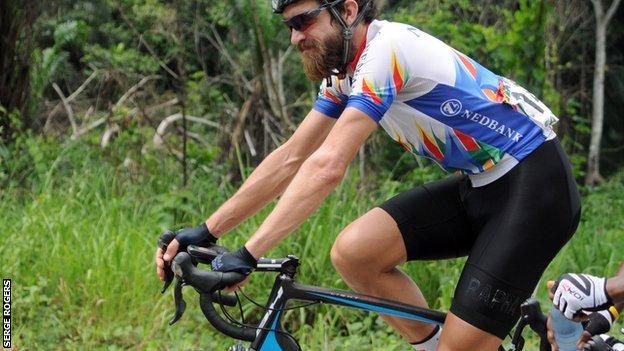 Two things stick out from Dan Craven's childhood memories of the 1990s.
The first is the many happy hours he spent playing outside his home in Omaruru in the heart of Namibia, displaying a love for the outdoors that remains with him today.
The other is being glued to the television to watch his hero Frankie Fredericks win Commonwealth and Olympic medals in distant lands.
Now, as preparations for Glasgow 2014 gather pace, Craven is hoping to follow in the sprinter's footsteps and win for the South African nation.
"People often get stuck in their ways," said Craven. "It is hard to get out of Namibia as you don't always see the path.
"There are not many role models who have blazed a trail and showed you how to do it.
"Frankie just went out there and did so well on the world scene.
"As a young kid growing up, he was really the only Namibian who was world famous. I remember sitting in Omaruru and watching this Namibian beat the best in the world.
"Frankie can do it. A Namibian can do it, and that means we can do it."
While not officially confirmed yet, Craven is looking forward to representing his country in his third Commonwealth Games in Glasgow having raced in the individual time trial and road race cycling events in Melbourne in 2006 and India four years ago.
His best finish so far at a Commonwealth Games is 12th in the Delhi road race, and he has high hopes for this year.
One aspect he believes may play in his favour is his familiarity with the UK.
Since 2009, Craven - known in cycling circles for his fulsome beard - has been based in Manchester, Bristol and London and riding for Rapha Condor and Team IG Sigma Sport.
He said: "Coming from Namibia, I would constantly complain about the weather. The Brits would say 'it is what it is, get over it'.
"It broke me. I was struggling. I didn't have my best years racing in the UK.
"A lot of people coming from warmer climates won't know what's hit them when they get to Glasgow. For me, it is going to be just another day in the British Isles.
"Just like the London Olympics, Glasgow is going to be a 'home' Games for me. There are going to be so many familiar faces. I'm extremely excited about that."
Craven is also no stranger to Scottish hospitality. He laughs as he remembers how a friend got him into the Scottish after-party following the closing ceremony in Delhi.
The gate-crashing was not lost on First Minister Alex Salmond, who was also in attendance.
Craven said: "He made a speech and mentioned 'another athlete who was so desperate to be part of the Scottish party that he smuggled in', which I obviously really enjoyed."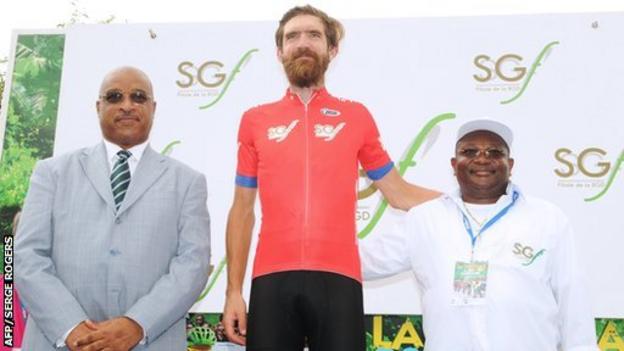 Craven, the grandson of celebrated South African rugby player and national coach Danie Craven, started cycling seriously when he attended the University of Stellenbosch in South Africa.
After attaining his degree in politics, philosophy and economics, he moved to Switzerland in 2005 to follow his dream of becoming a professional rider.
He was taken on by Team Fidibc.com and was based in the shadow of the Alps.
To date, his greatest achievement is winning the African Road Race championship in 2008.
He had no team to support him on the road to victory and had to rely on the goodwill of the South African women's team to hand him refreshments during the race.
When he is not travelling the world, he helps with the development of cycling in Namibia and he believes things have changed for the sport since he won a continental title on his own.
Mannie Heymans, who represented Namibia on the bike in both the Olympics and Commonwealth Games, is in charge and the sport is also benefiting from development programmes in other African nations such as Rwanda.
For Craven, luck has not been on his side in recent years. At London 2012, he was involved in a crash with Luca Paolini and had to retire from the road race.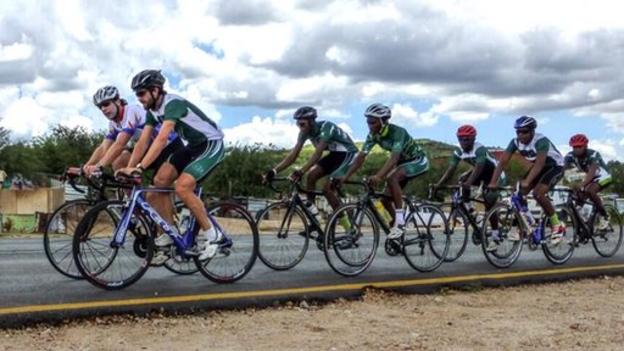 Last year, while with the Synergy Baku team from Azerbaijan, he suffered from coxsackie B - a virus that left him with stomach problems and with little energy.
He now believes the worst is over, and can't wait to line up in Glasgow against the likes of David Millar, Mark Cavendish and, possibly, Tour de France winner Chris Froome.
He took some time out training to meet BBC presenter and cyclist Mark Beaumont, who is following the Queen's Baton Relay, to discuss the development of cycling in Namibia.
The Queen's baton was in the country this week as part of its journey around the Commonwealth. It is the main curtain raiser ahead of the Games this summer.
Between now and the Games, Craven will race with his new team - the German-based Bike Aid - Ride for Help - in Namibia, Algeria, Germany, South Africa and Canada.
"I am not as nervous and afraid as I used to be," he commented. "I am seeing the Commonwealth Games in Glasgow as an opportunity for me to go out there and do something special.
"In the past, even though I didn't know what was wrong with my health, I felt that there was something limiting me.
"Now I am relishing the opportunity to race as I can go out and show myself."