Frankie Fredericks: The man who made Commonwealth history
By Craig Frew
BBC Scotland
Last updated on .From the section Commonwealth Games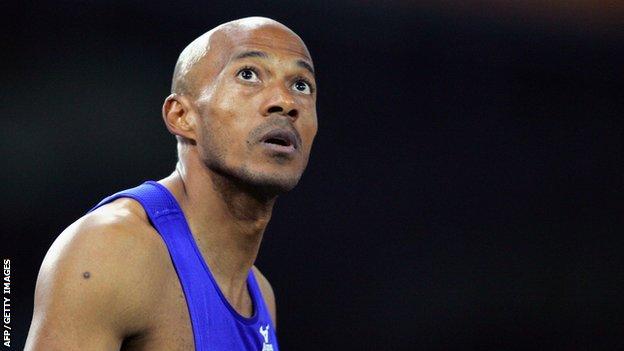 In 1994, Frankie Fredericks set a 200m Commonwealth record that remains unbroken.
As the Glasgow 2014 Commonwealth Games approach, the 46-year-old believes Usain Bolt could be the man to finally better his long-standing record.
"It would be nice to see Bolt compete in the Commonwealth Games," explains Fredericks.
"I think if he goes to Glasgow and takes it serious he can break that record."
Bolt, who has never won a Commonwealth medal, indicated he would only run in the 200m if he decided to compete at the Games in Glasgow this summer.
In his career Fredericks ran under 20 seconds in the 200m 24 times, a record only beaten by the current 100m and 200m Olympic and world champion, Bolt.
Fredericks made history as the first Namibian to win Olympic and World medals, and would complete the trio at the 1994 Commonwealth Games in Victoria.
"In '94, there was quite a lot of pressure," he recalls.
"I wanted to make sure I was the first person to bring home a Commonwealth medal for Namibia.
"I was the first to win an Olympic and World Championship medal and I wanted to continue with the streak."
He claimed 200m gold with a record winning time of 19.97 seconds and was full of emotion at the finish line.
"I was just composed and I was really happy after the race," he said. "If you watch the video you will see how I celebrated. I was really happy and to do it in a record time.
"That record has been standing now for a very long time and it is about time they got their act together and break it."
Fredericks revealed that achieving great sporting success was never part of his early ambitions. As a young man, education was his primary focus.
"Education was the most important thing for me," he adds. "In 1986 I did not have the foresight to see that Namibia would have independence and I knew the difficult situation I grew up in.
"I never really dreamt of competing at the Olympic or Commonwealth Games."
Located on the south-west coast of Africa, Namibia was a territory under the rule of South Africa during Fredericks's childhood.
For decades the country had been excluded from international sport because it was a province of South Africa, which faced sanctions as a result of apartheid polices.
Fredericks lived in the capital Windhoek and from an early age his sporting talent was apparent, yet the youngster would make his name on the football pitch rather than the athletics track.
During the mid-80s he was a prolific goalscorer for one of Namibia's top sides, Black Africa, tormenting defenders with his frightening pace.
''I was equally as talented as a footballer, but it was quite difficult when I was looking for scholarships to walk into a company and say I was the best footballer," he said.
"But if you cross the line first in the 100m, there is no doubt who is the fastest man in the world.
"My parents were so poor that they would not be able to afford to pay for my education. I had to use my natural talent in order to gain a scholarship."
He was selected for a management training programme with Rossing Uranium Mine Company, and continued to train in the coastal town of Swakopmund.
The company would eventually support Fredericks when he enrolled with a track scholarship at Brigham University in Utah in 1987 to study for a computer science degree.
During the first three years of his studies, Namibia were still banned from competing in international competitions.
Fredericks would return to work in the mine in summer months, while the top college athletes would compete in events around the world.
On the 21 March 1990 Namibia gained independence after years of struggle under apartheid.
He quickly became an icon for the young nation as the country which was finally allowed to compete on the international arena.
In 1991 he became first sprinter outside the US to win the 100m and 200m at the American collegiate championships.
The following year, a 24-year-old Fredericks would become Namibia's first Olympic medallist at Barcelona 1992. He left Spain with two silver medals in the 100m and 200m.
He then won 100m gold at the 1993 World Championships in Stuttgart.
Two more silver Olympic medals would follow in Atlanta 1996, followed by silvers in the 1998 Commonwealth Games and 1997 World Championships in Athens.
At the age of 34, he returned to the world stage in 2002, following a two-year period recovering from an Achilles injury that had looked to end his career.
He set about winning three titles in less than two weeks.
It would begin at the Commonwealth Games in Manchester 2002.
"I was the oldest in the field," he remembers. "All the odds were slim that I would be going back to the podium."
He lined up at the start of the 200m and ran a race he would remember forever.
Fredericks claimed the gold medal in 20.06 seconds, with England's Marlon Devonish and Darren Campbell securing the silver and bronze.
"Winning the Commonwealth Games in Manchester was really a memorable moment, and my most memorable competition to date," he said.
"I knew if I came off the bend first that nobody will beat me, but I had to make sure I ran the turn quite well and that's what I did.
"It was a nice medal to win and to defend my title."
One week later in the African Championships in Tunisia, Fredericks completed a 100m and 200m double to finish his athletics career on a high.
As the most decorated athlete on the African continent, he is now a role model and continues to drive the importance of education.
"After your sports career you have to count on your education to carry you through; your athletics career stops in your early 30s and you retire form working at 65," he continues.
"You still have 35 years that you have to contribute to be a good citizen to the world. Giving something back and being an ambassador - something I have taken really seriously."
He is member of the International Olympic Committee and set up the Frank Fredericks Foundation which gives scholarships to the promising athletes of Namibia.
He explains: "We want to make sure we give young talented Namibians an opportunity to grow and hopefully become the first Olympic gold medallist in the future."
The Queen's Baton Relay is travelling around the all the nations and territories of the Commonwealth in the build-up to the Games in Glasgow this summer.