Amantle Montsho to give up athletics for basketball after Rio
By Graham Fraser
BBC Scotland
Last updated on .From the section Commonwealth Games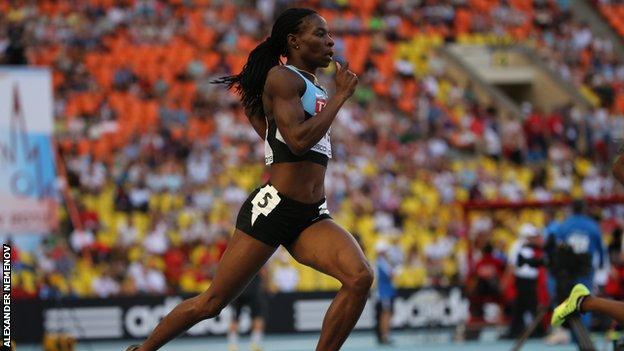 Commonwealth 400m champion Amantle Montsho intends to hang up her running shoes after the 2016 Rio Olympics to become a basketball player.
The former world champion was speaking about her future as she looks forward to defending her athletics crown in Glasgow this summer.
The 30-year-old Motswana also vowed there will be no repeat of the 400m World Championships final in Russia last year, when British star Christine Ohuruogu snatched the gold medal from her on the line after the African appeared to slow towards the end of the race.
Speaking from her training base in Senegal, Montsho said: "If I retire in two years after Rio 2016, I'm going to basketball as that is my favourite sport.
"I even like it more than athletics. I can't lie.
"I have all the medals in all the games in athletics. I only don't have the medal for the Olympics. I am going to work hard for Rio in 2016. I am working hard now for the Olympic Games.
"I will take a break and see if I come back in athletics, but I am sure I will go for basketball. I play (basketball) sometimes when I am off season."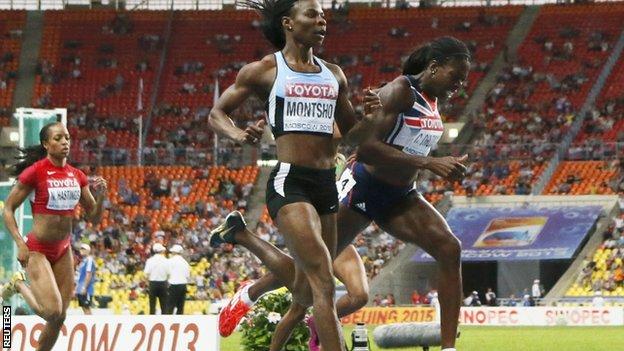 Far from enjoying the sport casually, Montsho says she wants to compete for her nation on the basketball court. Even though Botswana have never been represented in basketball at the Olympics, she has dreams of an appearance at the 2020 competition in Tokyo.
However, between now and 2016, Montsho is completely focused on athletics and on winning her second Commonwealth gold medal in Glasgow.
She is also committed to keeping the Commonwealth record - currently 50.10 seconds, which she set in Delhi - in her name.
At the moment, it remains unclear if Ohuruogu will compete in Glasgow in the 400m. If she does not, it would be a shame for fans in Glasgow to not see one of the best British athletes in action. It would also prevent a possible repeat of one of the most memorable races at the 2013 World Championships.
In the 400m final, Montsho was comfortably in front as she ran down the home straight.
As she continued at a steady pace, Ohuruogu - in second place - started to catch the Motswana. Montsho did not look behind her and was not aware of Ohuruogu's charge, and the pair crossed the line together.
The English star dipped her head while Montsho did not. It would prove costly. Ohuruogu won the gold, beating Montsho by just four thousandths of a second.
Montsho said: "I think I could have won the Games but I didn't see her as she came behind my back.
"Christine is very clever on the track. I think if I put my head on my chest I could have won the race.
"I have learned something from her. I have to work to improve my finishing.
"In Glasgow, I don't think I will relax. I learned a lot last year at the World Championships. I am working harder than last year to defend my title."
Montsho is a hero in Botswana and, until London 2012, was seen as the nation's only realistic medal hope on the running track.
That changed when 18-year-old Nijel Amos won Botswana's first Olympic medal after finishing second to David Rudisha in one of the most thrilling 800m finals in living memory.
With Nijel also looking forward to Glasgow, Amantle doesn't feel the pressure of expectation.
She added: "Before 2010, I had not been running good. In competitions, I was not doing what I wanted.
"In 2010, my coach and I changed some of the things in my training. We changed a lot in speed, weightlifting and endurance.
"I am looking forward to Glasgow as I am the Commonwealth record holder and Commonwealth champion, so I would like to defend my title this year.
"I don't feel pressure. It will be my third Commonwealth Games. I know all the girls I will be competing with."
Amantle's medal hopes, and those of Botswana for the Commonwealth Games, came into focus in the last few weeks as the Queen's Baton Relay passed through the country.
The baton, which contains a message from the Queen to the Commonwealth, is currently travelling around the 70 nations and territories that make up the organisation.
The message inside will be read out at the opening ceremony and the Games will then begin.
Montsho will be there, and if Ohuruogu lines up against her in the 400m it will be one battle worth watching this summer.