Glasgow 2014: South Africa's Murray aiming for triathlon gold
By Craig Frew
BBC Scotland
Last updated on .From the section Commonwealth Games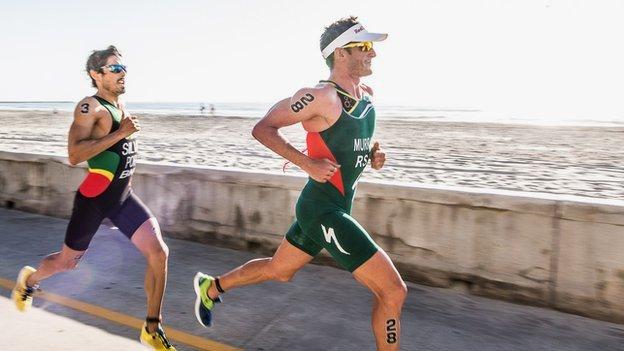 At the age of 25, Richard Murray has already become one of the most successful triathletes in Africa.
As he prepares for another gruelling season, the Olympian has his eyes firmly set on standing on the podium at Glasgow 2014.
"This season I'm hoping for top three in the world rankings and a medal in the Commonwealth Games," explains the South African.
The triathlon will open the competition on the 24 July.
Murray has been ranked fifth in the ITU World Triathlon Series for the last two years and he hopes to continue the success in 2014.
He spoke to the BBC as he joined the Queen's Baton Relay celebrations in Cape Town last week before his preparations for Glasgow got under way.
The relentless triathlon season schedule began with winning his first race of the year, the 2014 ATU African Sprint Cup triathlon on Sunday.
With a combination of World Triathlon Series, French grand-prix and Bundesliga events, Murray will compete in around 16-20 races this year.
"It's quite a lot," he added.
"The first two months of the season I will have the South African Sprint Championships, then to New Zealand and it will get really busy in May."
He represented his country at the London Olympics in 2012, finishing 17th in the race.
"I enjoyed the Olympics. It was a good stepping stone in my career," he continued.
"There were a lot of people who said I was too young. When I qualified I wouldn't say it was a total shock, but it was an amazing experience to be there and be part of it."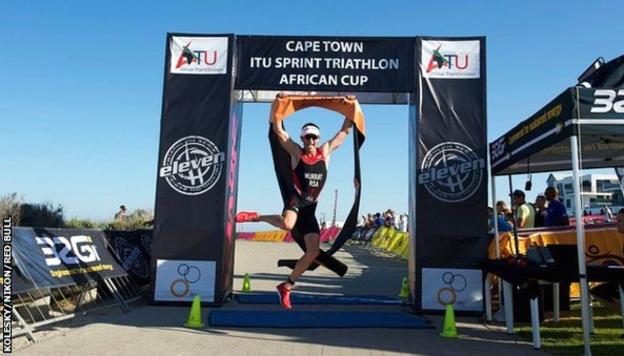 The race in London was dominated by Team GB's Alistair and Jonathan Brownlee who claimed gold and bronze medals, a pair Murray is very familiar with.
"I have been racing against the Brownlees since I was 14 or 15 years old. They are spectacular athletes they go hard and are so disciplined," he said.
"I have got a lot of respect for them.
"At the Commonwealth Games it's going to be interesting to see how they come out after the bikes and where we all are."
At London 2012, Murray lost over a minute in the water to the eventual winner, Alistair Brownlee. During the last two years he has focused on improving his swimming.
"I have run against them a few times," Murray said of the Brownlee brothers.
"But I've had to come from behind after the swim so it will be interesting to see how that dynamic might have changed in the last couple of years.
"Triathlon is very a selfish sport. If you think about the competition you are putting yourself backwards.
"I've come to realise more and more, that my focus needs to be on my own performance."
Triathlon is a relatively new Commonwealth sport, making its first appearance at the 2002 Games. It was not included in Delhi 2010 but will return for the competition in Strathclyde Park in Lanarkshire.
Similar to the ITU World Series, the Olympic and Commonwealth Games are draft-legal triathlons, which allows athletes to draft behind other athletes to save energy. It can encourage a tactical approach, particularly on the cycling section of the race.
Murray believes he is beginning to notice a change in the nature of triathlons.
"It is becoming more of a team-orientated event," he says. "I have noticed a trend of team roles, and more orchestrated performances.
"It used to be complete individuals against each other and now I wouldn't say people are employing others, but they are planning things better.
"It's something you have to think about and make sure you pre-plan."
Strategy is becoming ever more vital, as witnessed in Jonathan Brownlee's defeat by Javier Gomez in in the ITU World Triathlon grand final in London last year, when his brother referred to him as a "tactical numpty".
Murray is already thinking about the tactics for Glasgow and how to claim his maiden Commonwealth medal.
"There are a lot of good swimmers, and not much of a mid-field in the event so you could see a breakaway forming," he explained.
"When the Brownlees come out of the water it could be the two of them making a breakaway by themselves.
"Australia's Aaron Royle could be right up there as well.
"It's going to be interesting to see what is going to happen."
Fitness, tactics, a will to win - the triathlon should provide Games spectators with plenty of drama.
The Queen's Baton Relay is travelling around the all the nations and territories of the Commonwealth in the build-up to the Games in Glasgow this summer.