Kirani James aiming for Commonwealth Games glory
By Graham Fraser
BBC Scotland
Last updated on .From the section Commonwealth Games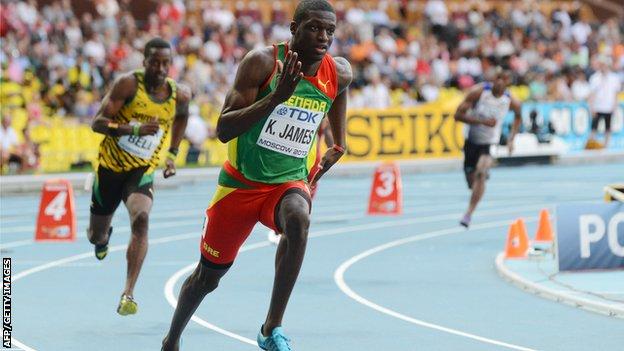 When Kirani James was set in his block in the 400m final of the World Athletics Championships last year, he was one of the favourites to win.
However, 43 seconds after the starting pistol sounded in Moscow, he was left disappointed. LaShawn Merritt, the former Olympic and World champion and James' main rival, celebrated victory.
The Grenadian finished seventh.
James' performance and placing raised a few eyebrows of surprise. But, with the Commonwealth Games in Glasgow now approaching, he is determined to get back to winning ways at major championships.
"It was just a bad race," said the athlete, reflecting on that night in Russia. "It happens. It just happened on the biggest stage of the year.
"It could have happened in the Alabama Invitational but nobody would care because that event is not magnified to the level of the World Championships.
"There is no adjustment in training. Just get it out of your head and focus on your next meet."
Of course, James will not have to think about Merritt or any other Americans in Glasgow.
While the Grenadian team is not confirmed, he is focussed on competing in the 400m at the Commonwealth Games.
James is looking forward to performing in front of a British crowd again after his Olympic success two years ago.
"I always try to be competitive and give my best effort," he said. "I had an opportunity to go to the Commonwealth Youth Games and I won the 400m there.
"Every championship, every event, is unique in its own way. I don't try to compare World Championships or Olympics or Commonwealth Games.
"I am just looking forward to competing and representing my country."
James is enthused by the Commonwealth concept.
"It is a great fraternity to be part of," he said. "Hopefully, we will put on a show."
James doesn't have his eye on any particular opponent in Glasgow, believing everyone will have "something to prove".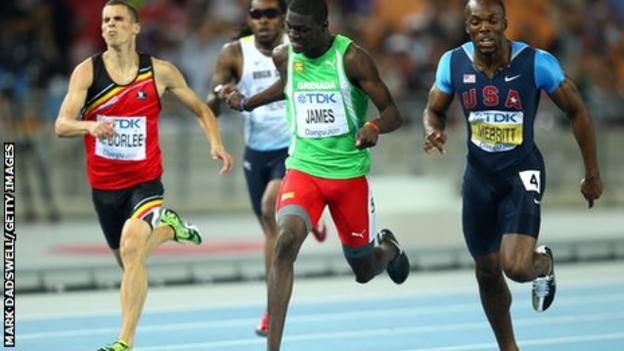 One man who has nothing to prove is Usain Bolt. The Jamaican 100m and 200m sensation is yet to confirm if he will compete in Glasgow and James - who has been compared to the sprint king since he was a teenager - is hopeful the fellow Caribbean star will make the trip.
"It is great when people recognise your talent and compare it to somebody who is a legend in the sport," he said. "I was flattered. I try to write my own history.
"Obviously he has a schedule that he has to work out. We will hope that it is feasible for him to come to the Commonwealth Games."
James is already making his own history. As well as his Olympic and World titles, he was the first athlete to win 200m and 400m World Youth Championship titles and followed that up with 400m victory at the 2010 World Junior Championships.
Still only 21, he studies business at the University of Alabama. Alabama was one of 10 scholarships offered to him by American universities, all keen to have the prodigy on their books.
Life in Alabama is simple. When James is not focused on his studies or the track, he enjoys watching comedy shows and listening to reggae and soca music.
After London, he was welcomed back to Grenada amid much fanfare as the country's first Olympic champion, with a stadium to be named in his honour.
For James, such recognition doesn't matter. Remaining true to himself, being humble and remembering his family and those from his home town of Gouyave drives him.
"Life hasn't changed much," he said. "The biggest change is the title added to my name.
"Otherwise, I try to be the same, keep around the same friends, act the same way.
"It doesn't really define who I am as a person. I don't place my identity in winning the Olympics.
"I think there is more to people than their job description."
James, as one of the world's most successful athletes, is also acutely aware of his status as a role model for young people around the globe.
"If I can do it coming from Grenada then they can do it too. For the generation coming up, just giving them that motivation - not necessarily in track and field but anything they put their minds to.
"If they work hard, and they are diligent, they can achieve that."
The enthusiasm of James and Grenada for the Commonwealth Games was highlighted as the Queen's Baton Relay passed through the island.
The baton is the main attraction in the run-up to Glasgow and is travelling the 70 nations and territories of the Commonwealth before it takes a key role in the opening ceremony of the Games.
James certainly has the potential to light up Glasgow 2014. He is also keen, once he gets there, to experience Scottish culture.
Asked if he will try out haggis or whisky, he let out a booming laugh before replying: "Probably not the latter, but the first one yeah.
"If it is recommended highly, I will try for sure."
There is no doubt many Scots would welcome him round the dinner table.