Glasgow 2014: 100m champion Natasha Mayers needs 'miracle'
By Graham Fraser
BBC Scotland
Last updated on .From the section Commonwealth Games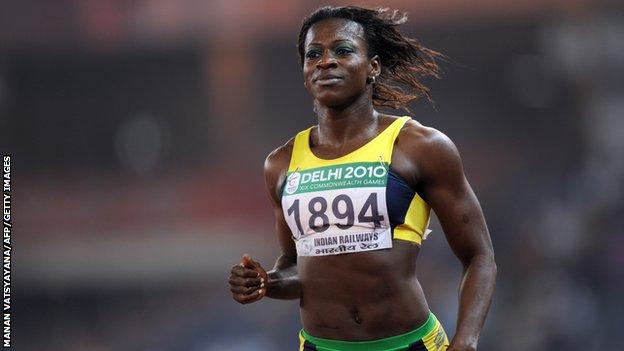 Commonwealth 100m champion Natasha Mayers says it would "take a miracle" for her to defend her title in Glasgow.
Mayers, who runs for St Vincent & The Grenadines, feels she is not getting enough support from their sporting authorities.
The 35-year-old, who has lived in the United States since she was 11, says she needs $8,000 (£4,800) to compete.
"They don't care about me defending my title. I'm training and I'm trying very hard," she said.
"I love my country. It is very difficult when there are parties that really don't know what it takes to succeed within the sport."
Mayers believes she needs to raise around $2,000 (£1,200) for each of the next four months to pay for facilities and coaches for Glasgow. She hopes to raise some money through fitness classes she runs.
But the athlete is frustrated with the St Vincent & The Grenadines National Olympic Committee and its associated body, Team Athletics St Vincent & The Grenadines.
She said she has never enjoyed financial support from the Caribbean islands apart from a grant from the Prime Minister in 2011.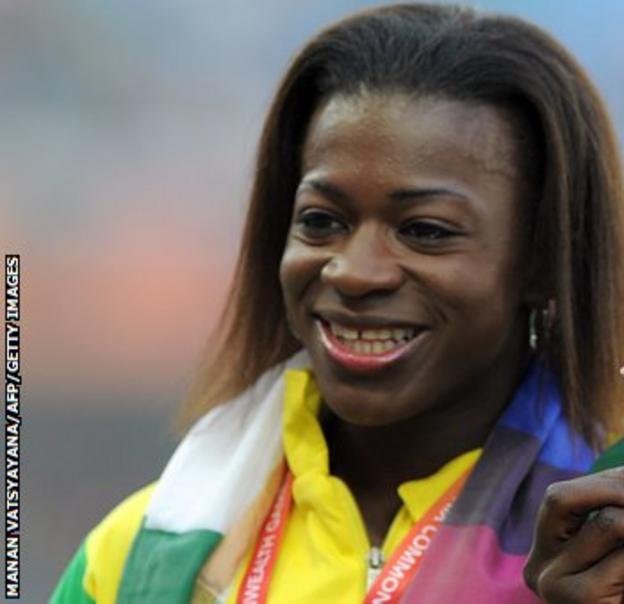 She said her major successes - including appearances at the 2000 Olympics and 2001 World Championships - were achieved while she enjoyed the benefits of college life in the United States.
The former University of Southern California sprinter believes she should have received more than the $1,000 (£600) prize money she got from the St Vincent sporting bodies for winning her Commonwealth gold medal in Delhi, the islands' first success at the Games in 36 years.
"Our neighbour, Grenada, has a world champion," she said. "We have yet to get close. Grenada has a smaller population than St Vincent.
"The fact you don't see anyone get closer is a result of the support system in St Vincent. It is so frustrating.
"I thought a Commonwealth Games gold medal would bring a change - how they look at athletics, look at the possibilities through sport - but it didn't."
Mayers said she paid her own way to India four years ago from money she earned while working as a social sciences and history teacher in Los Angeles.
The athlete was injured in the early stages of the 2011 IAAF World Championships and did not qualify for the 2012 Olympics in London.
She has not been in contact with Team Athletics St Vincent & Grenadines about funding since 2013.
Mayers argues that her status as a Commonwealth champion, coverage in the Vincentian media about her situation for Glasgow, and her unsuccessful attempts in the past to gain funding from the islands have stopped her from contacting the body.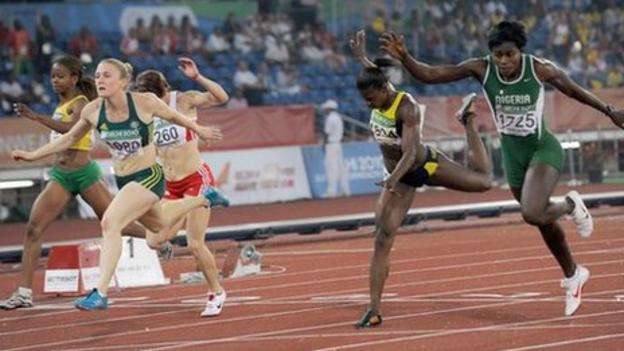 Nobody from Team Athletics St Vincent & Grenadines was available for comment.
However, Trevor Bailey, St Vincent & The Grenadines National Olympic Committee president, said: "We support a lot of athletes in different sports.
"They get a lot of assistance from us. I know that Natasha got a lot of assistance from us over the years.
"We do assist them, but we don't assist them directly. They approach their federation and the federation put the proposal to us.
"Every four years, we get some assistance from Olympic solidarity. Every four years, our athletes and affiliates get more assistance than before.
"We assist with hundreds of thousands of dollars to our athletes over the years. We have been sending our athletes to train, to compete around the region and international events."
Mayers actually finished third in the 2010 Commonwealth 100m final, but was promoted to second when Australia's Sally Pearson - who crossed the line first - was disqualified because of a false start, with Nigeria's Osayemi Oludamola upgraded to a gold.
The St Vincent athlete picked up her silver medal and was returning home to the United States when it emerged that Oludamola had been suspended for a positive drugs test.
Mayers said: "I was on the plane home and one of my friends, (Ghanaian sprinter) Aziz Zakari, had e-mailed me to say: 'Hold on, something is about to change.'"
Mayers only saw Zakari's message when she checked her phone back in Los Angeles. While standing on her own in the airport, she found a news report and discovered she was a Commonwealth champion.
"When I realised I was getting the silver medal, I was overjoyed," she said. "When I realised I was getting the gold medal, I couldn't believe it. It was out of this world."
Mayers' medal was, for her, the culmination of a long fight back after she was given a two-year drugs suspension from athletics in 2005.
Reflecting on the suspension, she said: "I just didn't know what to do. I went about it all wrong. I should have sought some help.
"Running was my life and it felt like somebody had cut my legs off. I accepted the ban and that's that.
"I'm grateful for my entire career. I think I have been blessed - to be top 10 in the world, to have that happen and still come back. I had to be drug tested five times to be reinstated. My name is clear."
Mayers' dream of competing in Glasgow was highlighted last week when the Queen's Baton Relay passed through her home islands.
The baton is the main attraction in the run-up to Glasgow and is travelling through 70 nations and territories of the Commonwealth before it takes a key role in the opening ceremony of the Games.
As the baton's journey to Glasgow continues, time is running out for the Caribbean champion to fulfil her dream of competing at the Games.