Glasgow 2014: Jersey eye bowls and shooting medals
Last updated on .From the section Commonwealth Games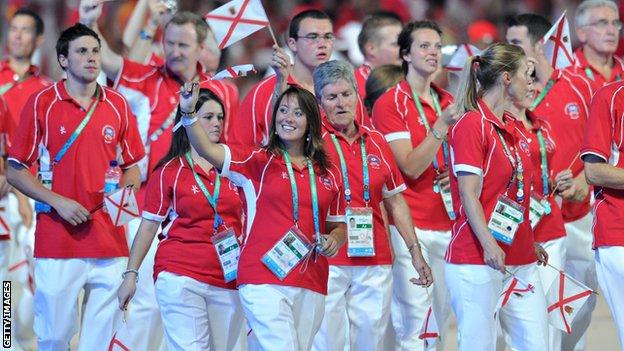 Jersey's best hopes of a medal at this summer's Commonwealth Games lie in bowls and shooting, according to the manager of the island team.
Paul du Feu, who has previously led the island's swimming teams at a number of games, says Jersey are hoping to get their first medal since 1990.
Colin Mallett won Jersey's last gold in full bore shooting in 1990, also taking pairs bronze with his father Cliff.
"Certainly shooting and bowls are our favourites," du Feu told BBC Jersey.
The closest Jersey have come to a medal since was in 2006 when they lost two bronze medal play-off matches in bowls and one in badminton.
Men's bowls pair Malcolm de Sousa and John Lowery lost their 2010 quarter final to Scotland in the final end.
"The ladies pairs were incredibly close in 2006, they were within one shot of the bronze medal," du Feu said.
But Jersey's best outside chance for a medal could the badminton team.
They have 2010 bronze medallist Elizabeth Cann after she represented England - and won bronze - in 2010.
She is set to be joined by Jersey-born England international Mariana Agathangelou and former British number one and 1998 and 2002 bronze-medallist for England Mark Constable, who now makes Jersey his home.
"Badminton could end up with a fantastic squad this time with people who have had experience of competing for England and are now competing for Jersey," du Feu said.
"If all that comes together then it could be a great squad."
But the Jersey team manager is realistic that his island home of less than 100,000 people is unlikely to produce many medallists at what is the highest standard people from the crown dependency can compete under their own flag.
"You're always optimistic, but I do think a medallist in one of the major sports, the major worldwide, big sports, you're not really going to do that from Jersey, it's going to be a tough one," he added.